(This post was originally published on mountainmodernlife.com)
Disclaimer: This post may contain affiliate links, meaning if you click through and make a purchase those featured in this post may earn a commission at no additional cost to you.
about this RV renovation
Type of RV: 1999 Damon Intruder Class-A Gas Motorhome
Renovated by: @toni__tillman / Budget: $4,000 / Timeline: 4 months
Today we're peeking inside a 1999 Class-A Motorhome that was renovated by the Tillmans.
Karlton and Toni are photographers that travel with their son, David, and their dog, Scout. I especially love their bold and creative design decisions, like getting rid of the passenger chair and replacing it with a sectional they brought from their previous apartment. They also built a a custom bed for their son in the cab area.
I have to admit I get pretty excited when I find an incredible Class-A Motorhome remodel. I may be biased since we currently have a motorhome, but with shorter ceilings than most 5th wheels, generally smaller kitchens, and a funky cab area to work with, it's always fun to see how others reimagine the space to work for them.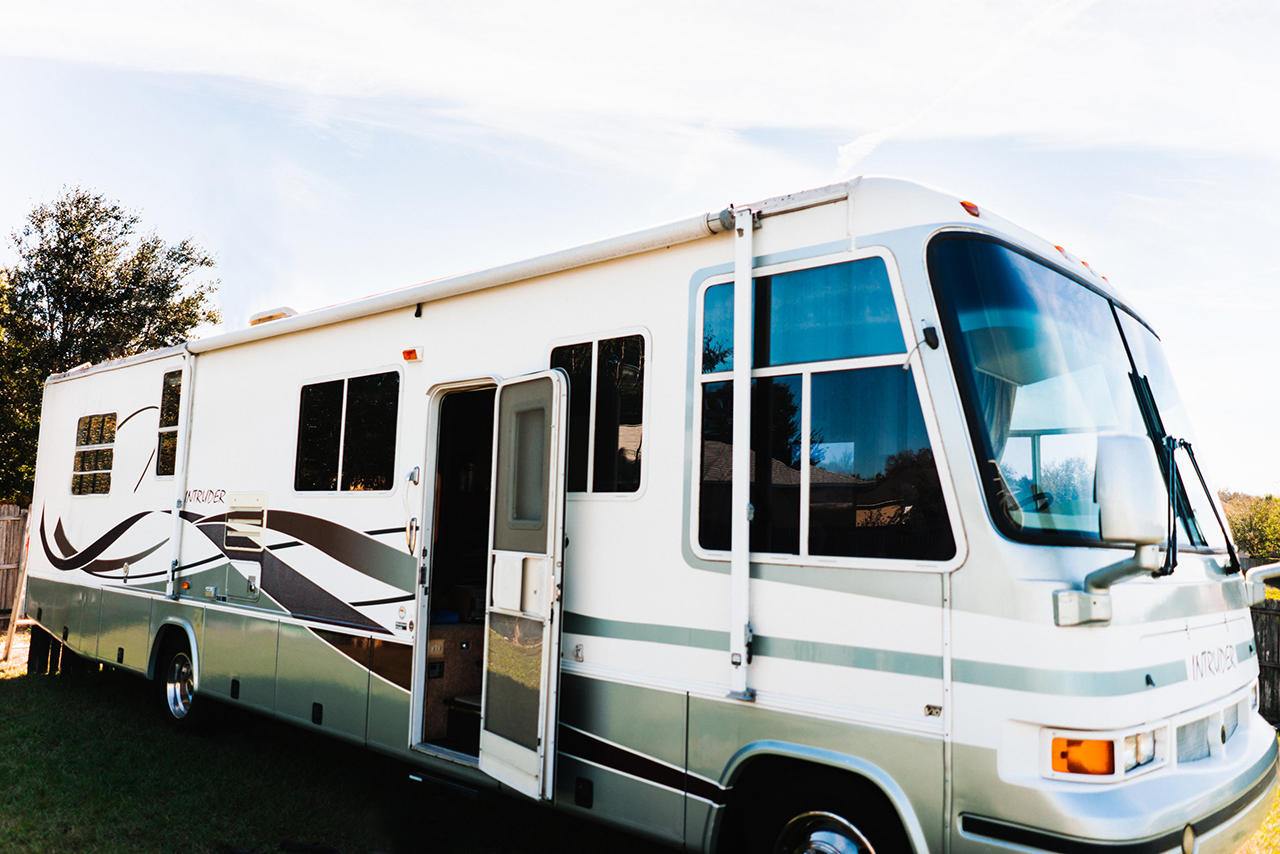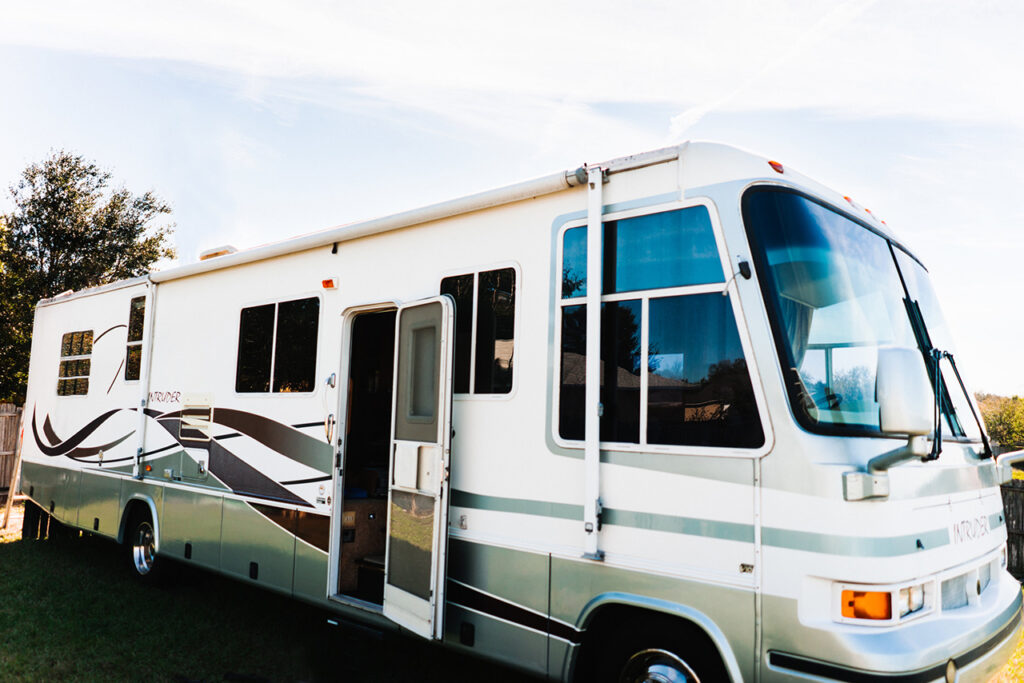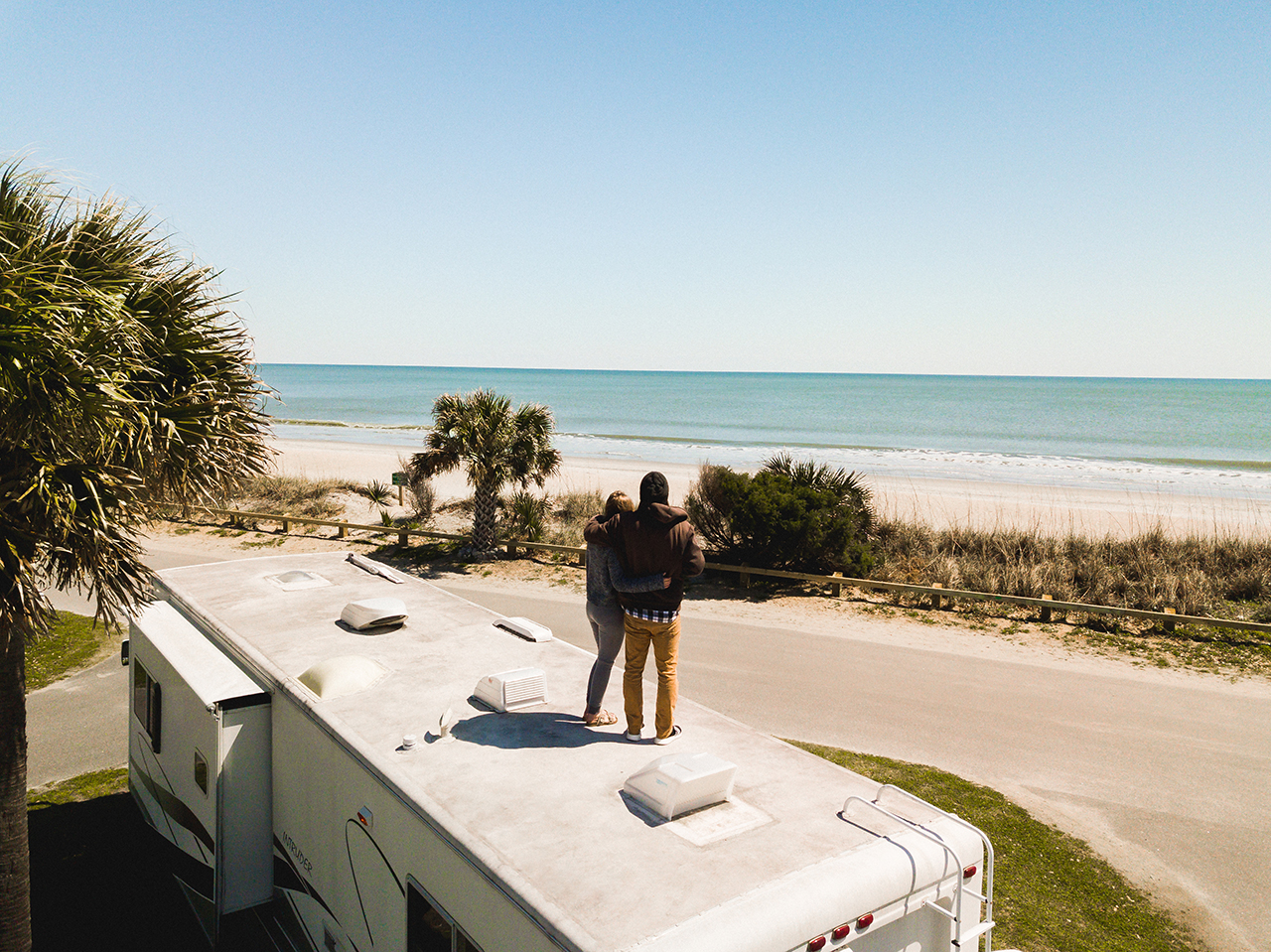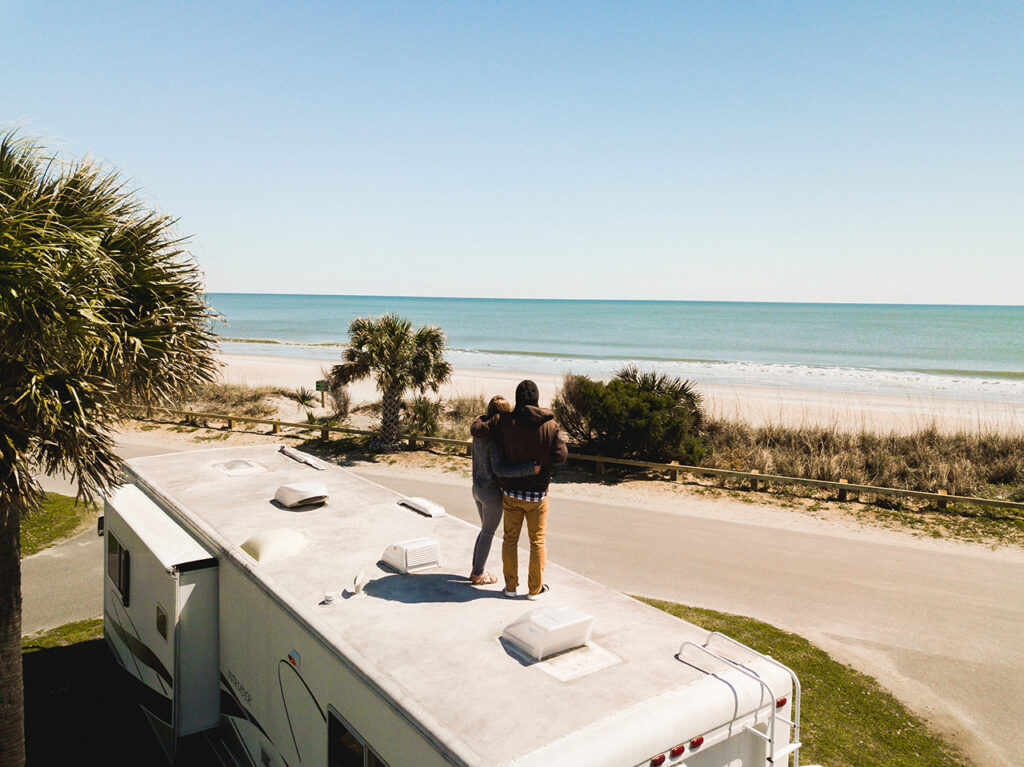 What led you to tiny living?
Right after we got married, the first house that Karlton and I ever lived in was pretty small, around 600 sq ft. We loved that charming, cozy cottage feel and started looking into tiny homes, but knew that we also did want to travel with our tiny home. We strayed away from the idea of getting a traditional tiny house on wheels and started looking into different RVs, which are really made to take on the road. We found ours after about a year of avidly searching on Craigslist.
How long did it take you to remodel your RV?
It took us two months to get all of the big stuff pretty much finished and start living in it, and then another month or two for all of the finishing touches.
How would you describe your decorating style?
I guess I would describe it as rustic modern farmhouse.
What project made the most difference in the space?
I think putting our big L-Couch up in the front area made a huge difference in our space. It totally changed the layout and general feel. I love how it kind of creates some separation between the 'living room' and the rest of the motorhome.
Where's your favorite place to shop for décor?
IKEA and Target! Basically everything we own is from either of those two places.
What is your favorite project or piece of decor and why?

We love everything in here! If I had to pick one, it would probably be the kitchen. I absolutely love our butcher block countertops and our huge quartz sink!
What project was the most challenging?
Ugh – the plumbing! Everything plumbing related in our motorhome gave us the hardest time. We didn't have running water for like 2 months after we had moved in, and it seemed like everything we tried just kept failing us over and over. We recently discovered that we had mold in our entire bathroom, too and had to basically rip everything out and do our whole bathroom over again!
What has been your favorite place to explore so far during your journey?
When we did the tour of the east coast last summer, I think our favorite place was either the coast of Maine or New Hampshire. We love a good rocky coastline, but NH had these awesome mountains that could compete with the mountains is Oregon or Washington, two of our most favorite places in the US.
What piece of advice would you give someone about to start an RV renovation?
I would say, just have fun with it! We loved the renovation process. It was a fun project for us to do together, and we just enjoyed working together towards a common goal. We had the music going and we would just get to work every day!

follow along
learn more about those behind this rv reno:
INSTAGRAM
Wanna share your RV renovation journey, ask questions, find inspiration, and discover recommended products and resources?