Disclaimer: This post may contain affiliate links, meaning if you click through and make a purchase those featured in this post may earn a commission at no additional cost to you.
about this RV renovation
Type of RV: 2003 Trail Bay travel trailer
Renovated by: @joineryanddesignco / Timeline: 4 Weeks
This camper transformation comes from Dan and Sarah, a couple with 4 adorable kids and a passion for renovating. In fact, these two run Joinery & Design Co., a woodworking and interior design company.
For them, buying a camper was the perfect solution for creating a temporary living space while building out their new home, and they were able to stay in it until it got cold (gotta love those MN winters!).
They're all about the changes that make a home functional, inspiring and comfortable, so it seems only natural they would create that in their tiny home, even if it was going to be short term.
With this being a temporary living situation, Sarah and Dan chose to sleep on the pull-out sofa and transform the bedroom into sleeping quarters for their kids, by building 4 bunk beds, creating ample storage for toys, and leaving room for play time.
The choice of colors and materials in this reno are simple, beautiful, and kid-friendly. Best of all, this family now have a place to create lasting memories as they take trips throughout the year.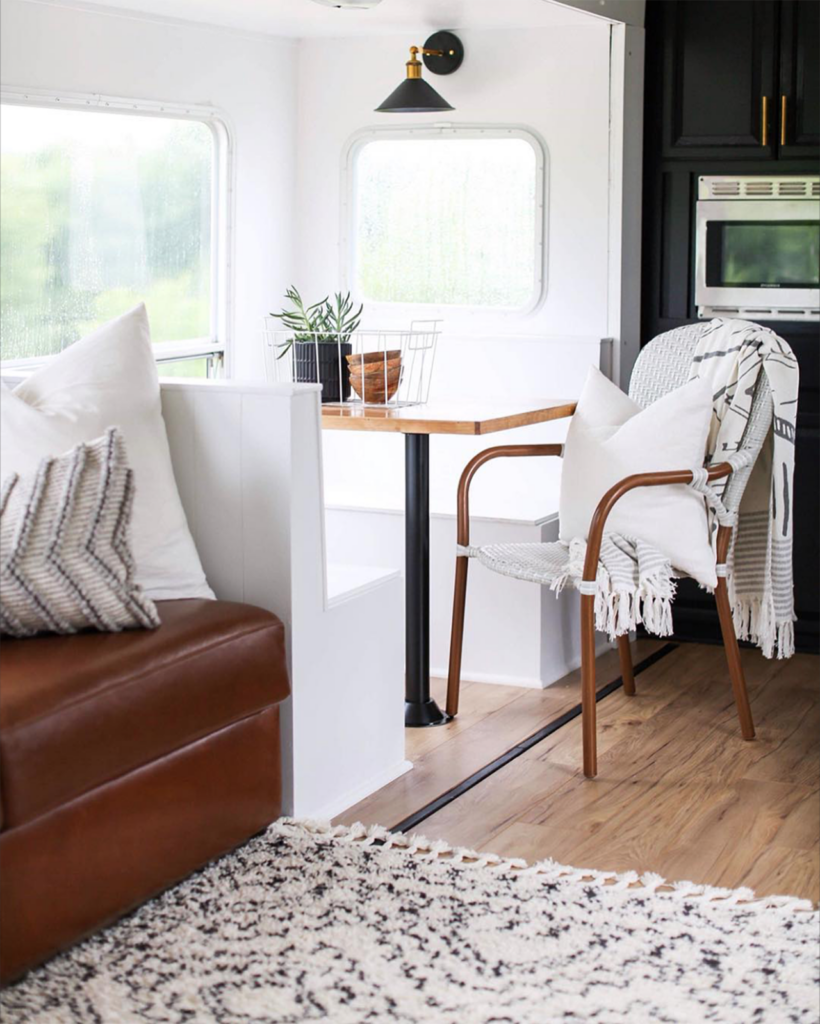 How would you describe your decorating style?
Modern, clean, rustic
Did anything specific inspire your renovation?
We fell in love with a moody design palette!
What was most challenging about your travel trailer renovation?
The RV mechanics!!
What project made the most difference?
The bunk room, hands down! We gained so much space!
Where's your favorite place to shop for décor?
West Elm or HomeGoods
What piece of advice would you give someone about to begin an rv renovation?
Start with a good core and RV mechanics so you can concentrate on the interior.
What has been your favorite place to explore so far during your journey?
Brainerd, MN on the Mississippi River
(This post was originally published in 2019 on mountainmodernlife.com)

follow along
learn more about @joineryanddesignco:
INSTAGRAM
Wanna share your RV renovation journey, ask questions, find inspiration, and discover recommended products and resources?