Disclaimer: This post may contain affiliate links, meaning if you click through and make a purchase those featured in this post may earn a commission at no additional cost to you.
about this RV renovation
Type of RV: Class-C Four Winds 5000
RV Owner: @2girls1camper / Budget: $17,000 (for the camper already renovated)
Mandy purchased her Class-C motorhome already renovated (the previous owner was a woodworker), and then added her personal touch throughout. I absolutely love her use of layers, texture, and pattern.
Whether you're planning a full-on camper remodel, or want to add decor to what you have, you're sure to draw inspiration and ideas from this beautiful tiny home on wheels!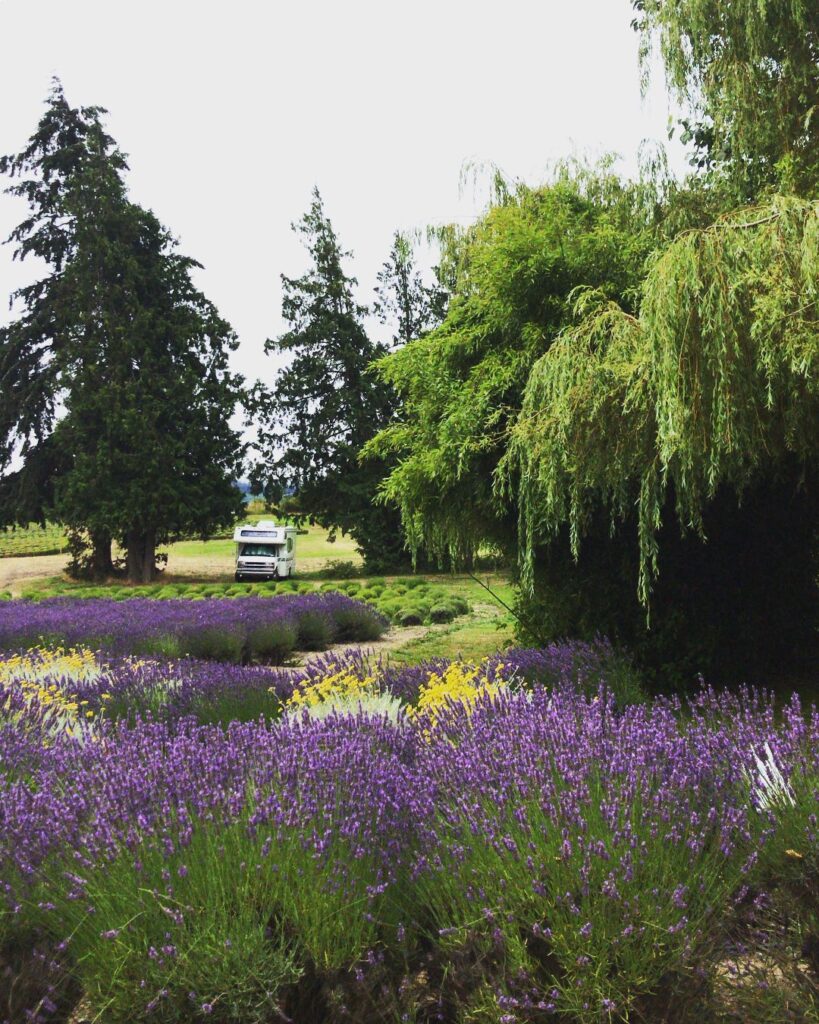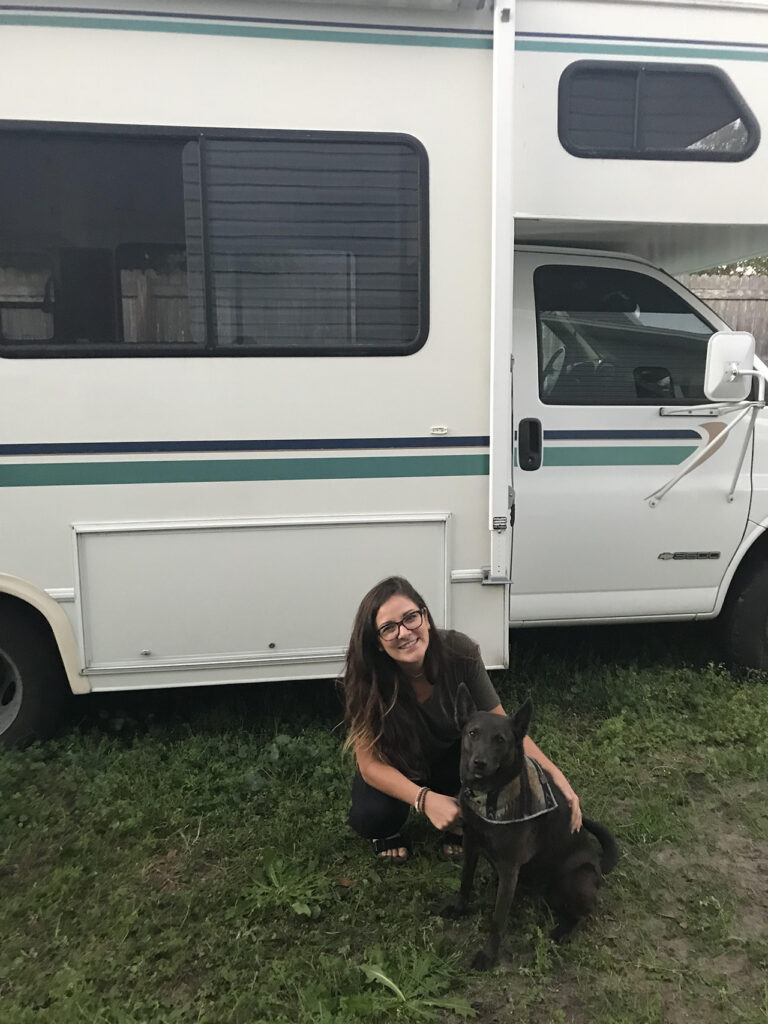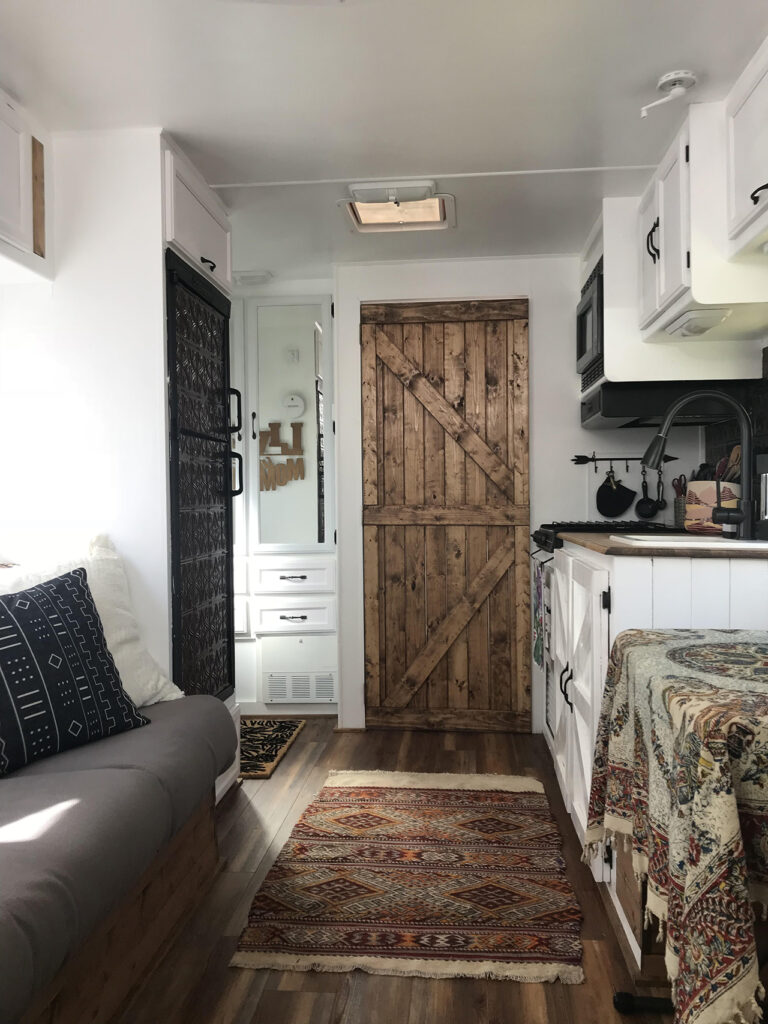 What led you to tiny living?
I've always love traveling. Living in a van allows me to take me home on the road. I can keep traveling, but have a more stable living environment (rather than hostels, couches, etc.) – it's nice to have a space that's my own!
Who do you travel with?
My doggo, Opal.
How long did it take you to remodel your RV/Camper?
I actually purchased it completely remodeled – all I did was add some decorations.
How would you describe your decorating style?
I would say it's an eclectic, globally-inspired, Bohemian, farmhouse style. That's a mouthful!!
What is your favorite project or piece of decor and why?
Of course, my favorite piece is the barn door! And my favorite decoration is my Turkish rug from Revival Rugs.
What project made the most difference in the space?
I love that the dinette was removed, so my dog has her own space (yep, she's spoiled).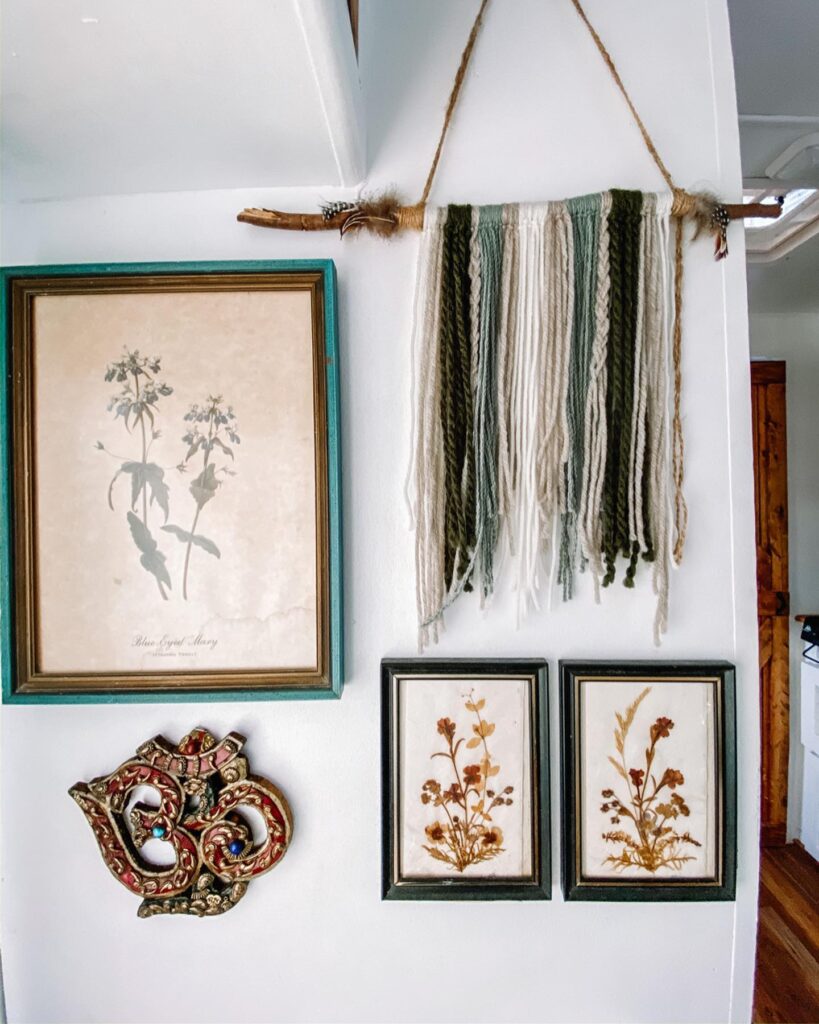 What is something you've learned in general or about yourself since going tiny?

There are so many things in our lives that we don't need. Simplicity is a beautiful thing. Also, it's so much harder to keep a smaller space clean!
What do you enjoy most about your space following the transformation?
I LOVE my LED lights – they are basically the only lights I use at night and are super cute.
What's your favorite tiny home hack?
I spend A LOT of time on the couch! It's where I usually sit when I am working, but it's also very comfy.
Where's your favorite place to shop for décor?
I got most of my things at random online shops or Etsy or WORLD MARKET or Target!
What has been your favorite place to explore so far during your journey?
I went to a Van Life Gathering in the Grand Tetons and it was such an incredible experience to meet a tribe of people who can relate to this lifestyle. Everyone I met was such an inspiring and kickass person. The tiny living community has definitely been the best part of this journey.
(This post was originally published in 2018 on mountainmodernlife.com)


follow along
Learn more about @2girls1camper at the links below:
Wanna share your RV renovation journey, ask questions, find inspiration, and discover recommended products and resources?