Disclaimer: This post may contain affiliate links, meaning if you click through and make a purchase those featured in this post may earn a commission at no additional cost to you.
about this RV renovation
Type of RV: 2005 Class A R-Vision
Renovated by: @us3andtherv / Renovation Cost: $7,000 / Timeline: 4 Months
After trying to decide where to set down roots, Kelly and Andy realized they weren't quite ready to commit to one place. While they had considered traveling, it wasn't until divine intervention stepped in that they realized there was no better time than the present.
They embraced the challenges that came their way and transformed an RV into a home on wheels. The interior now has a black, white, and gray color scheme and the bathroom is anything but boring!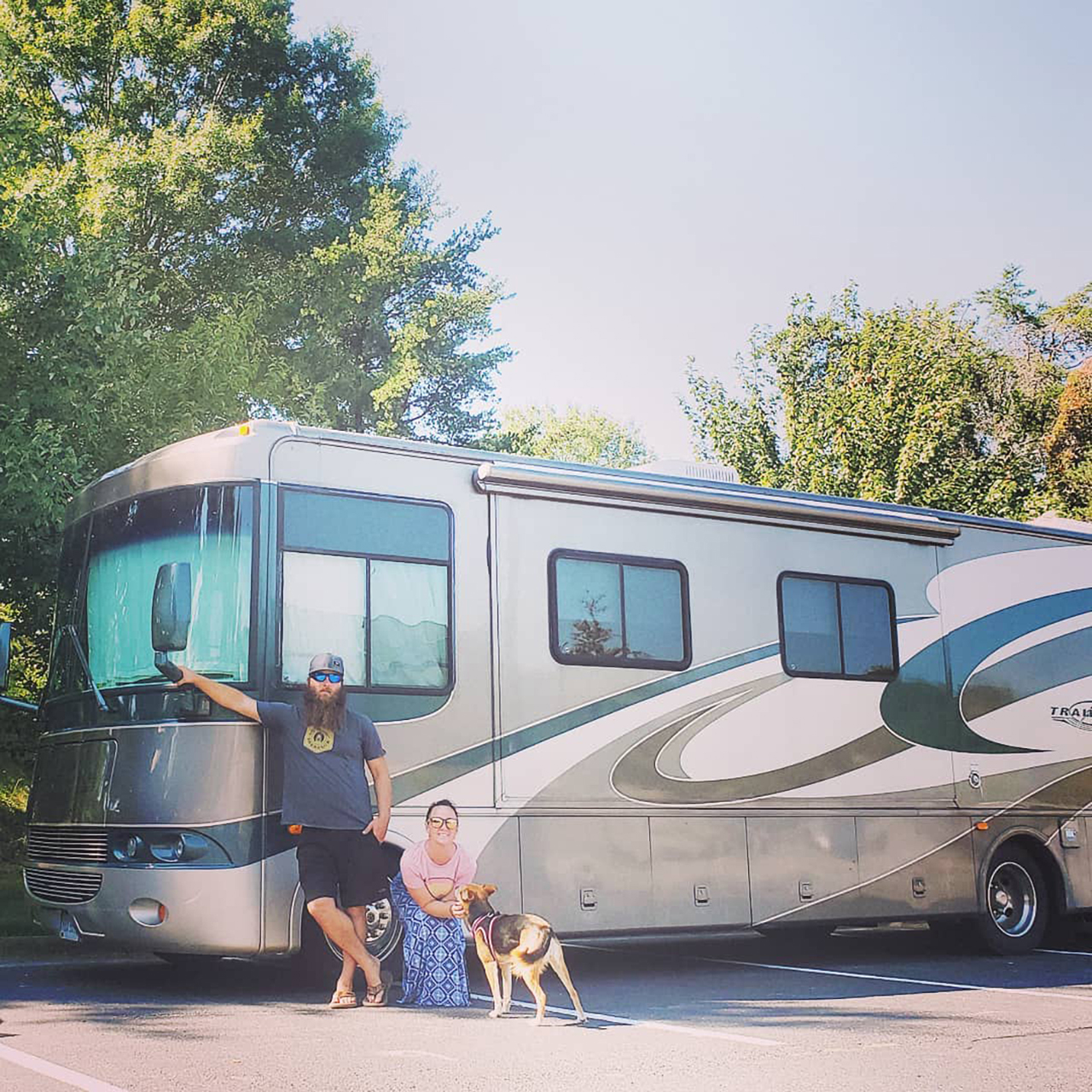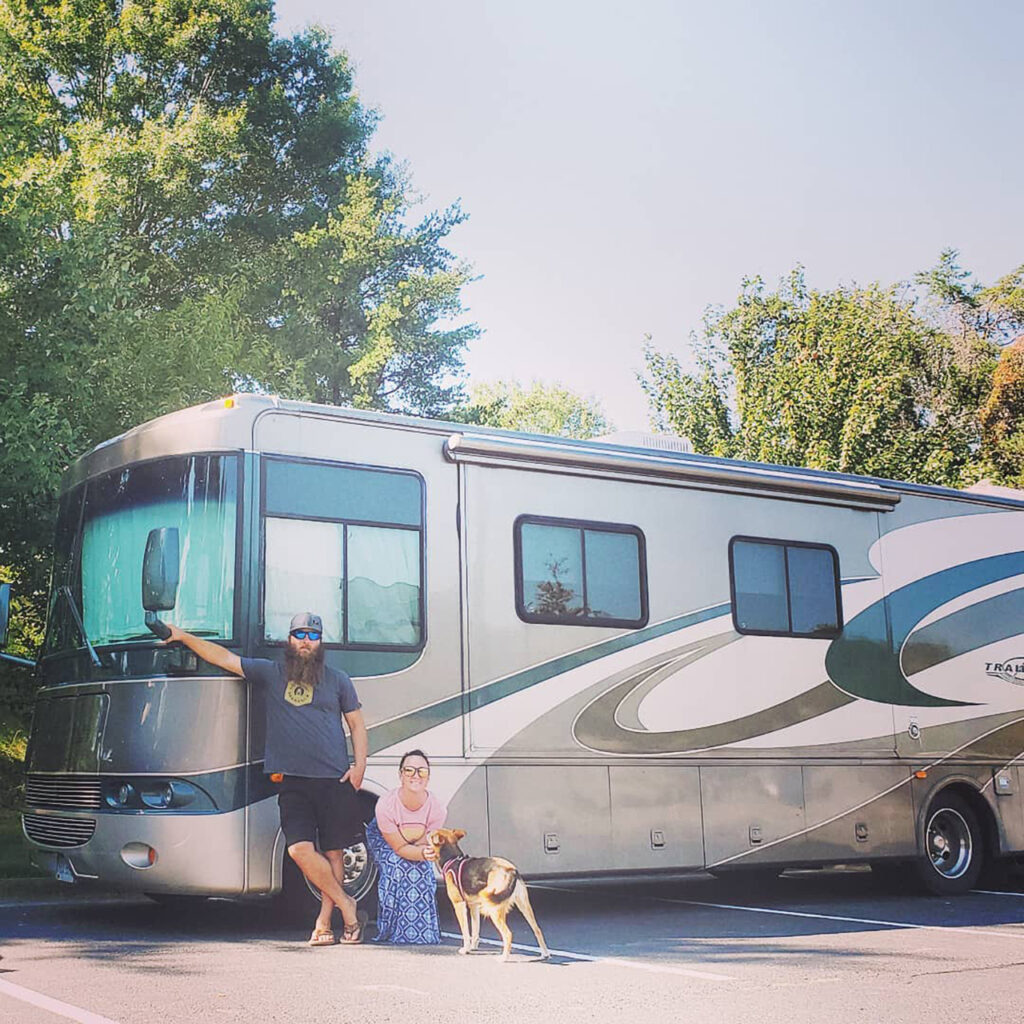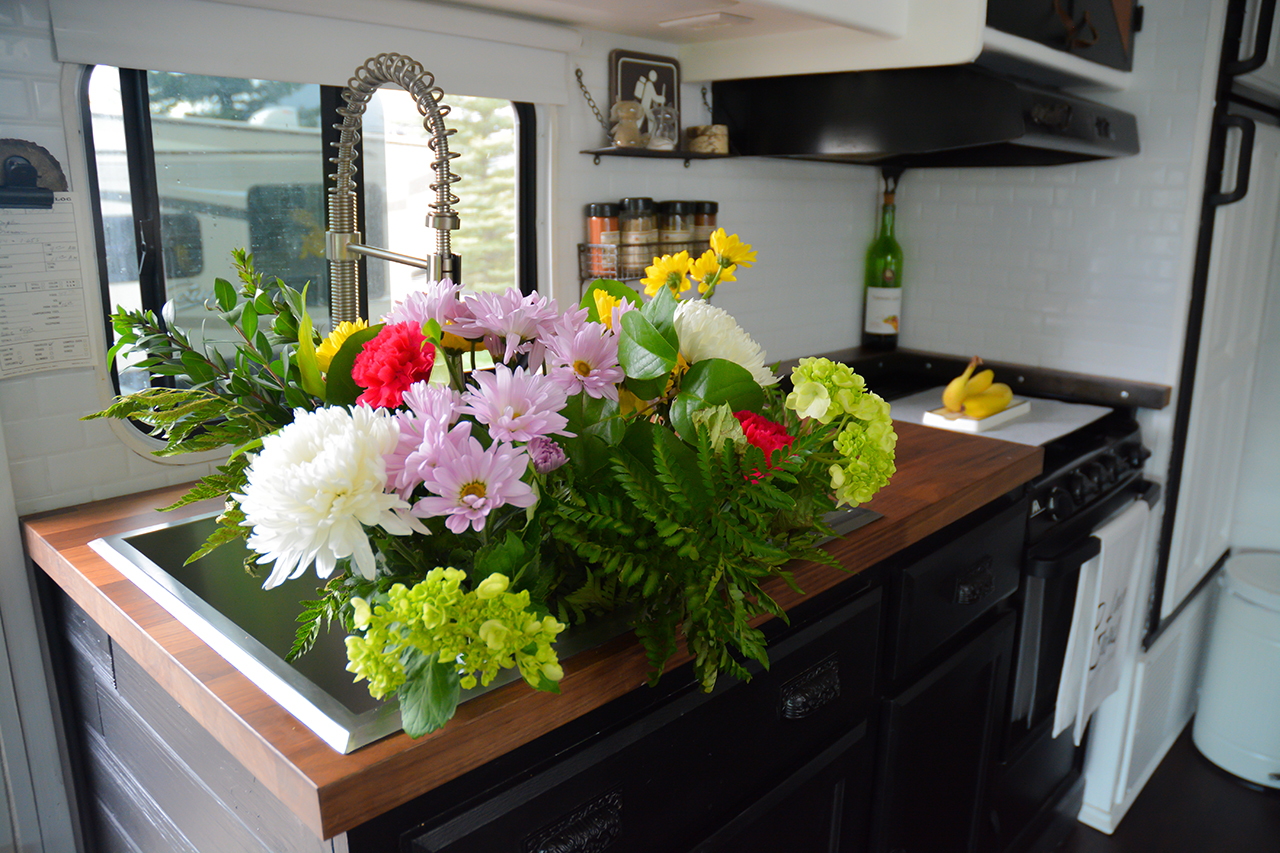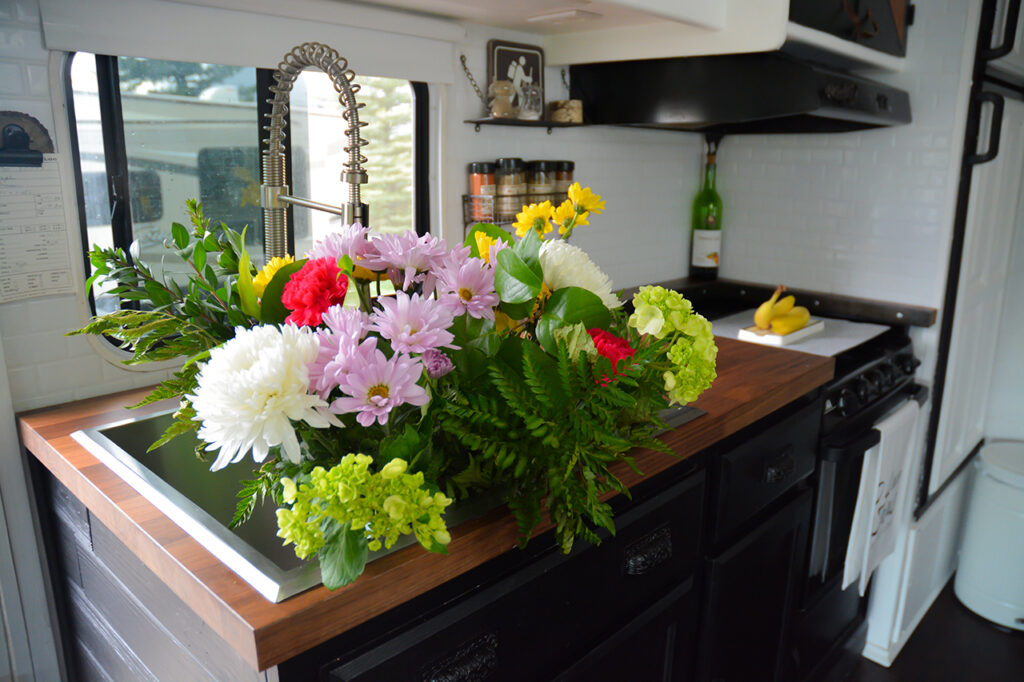 Before Photos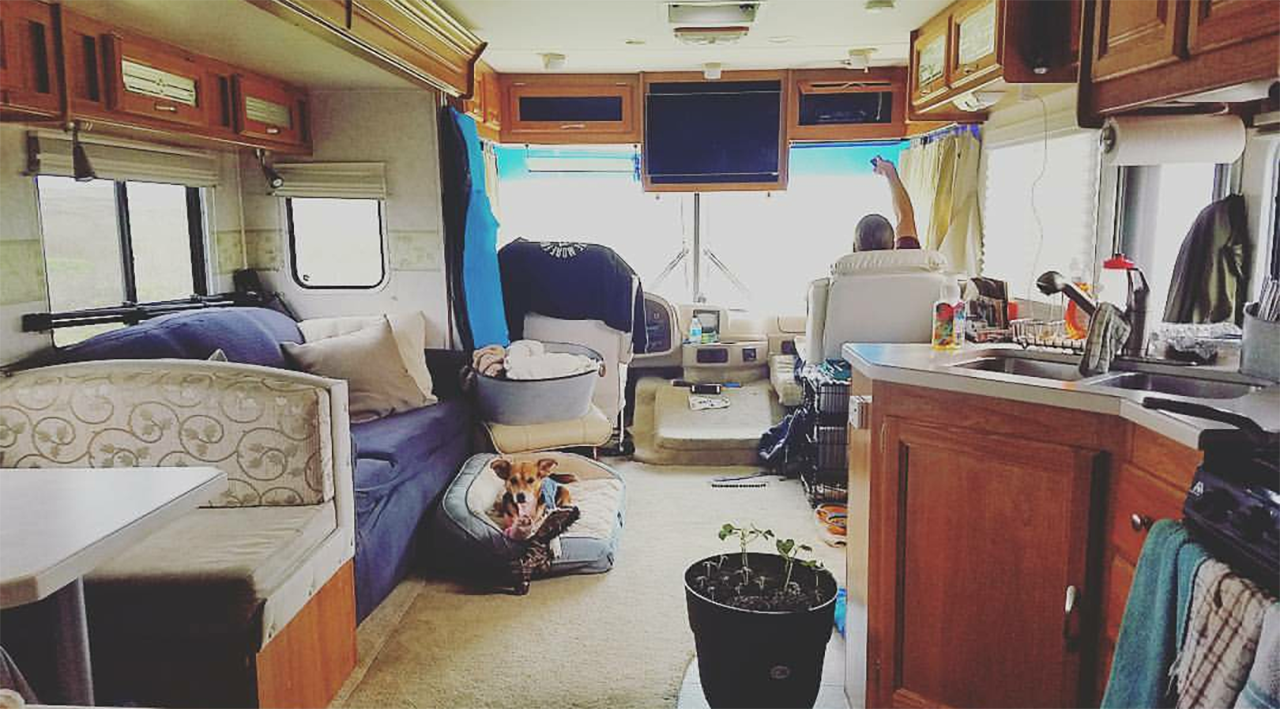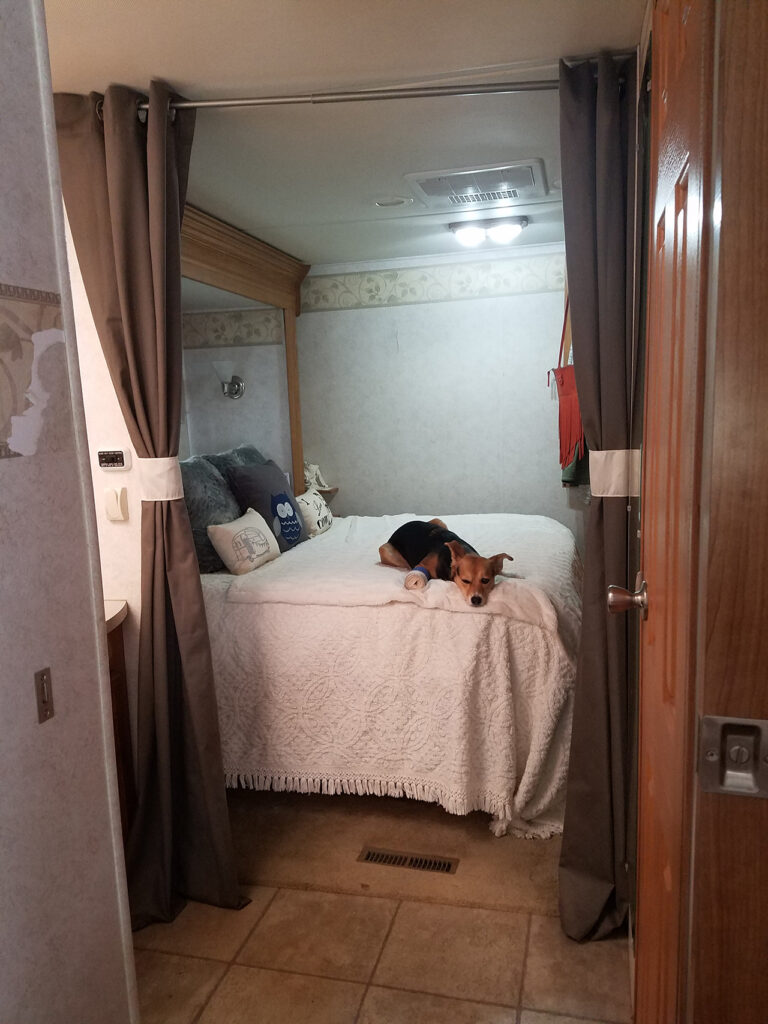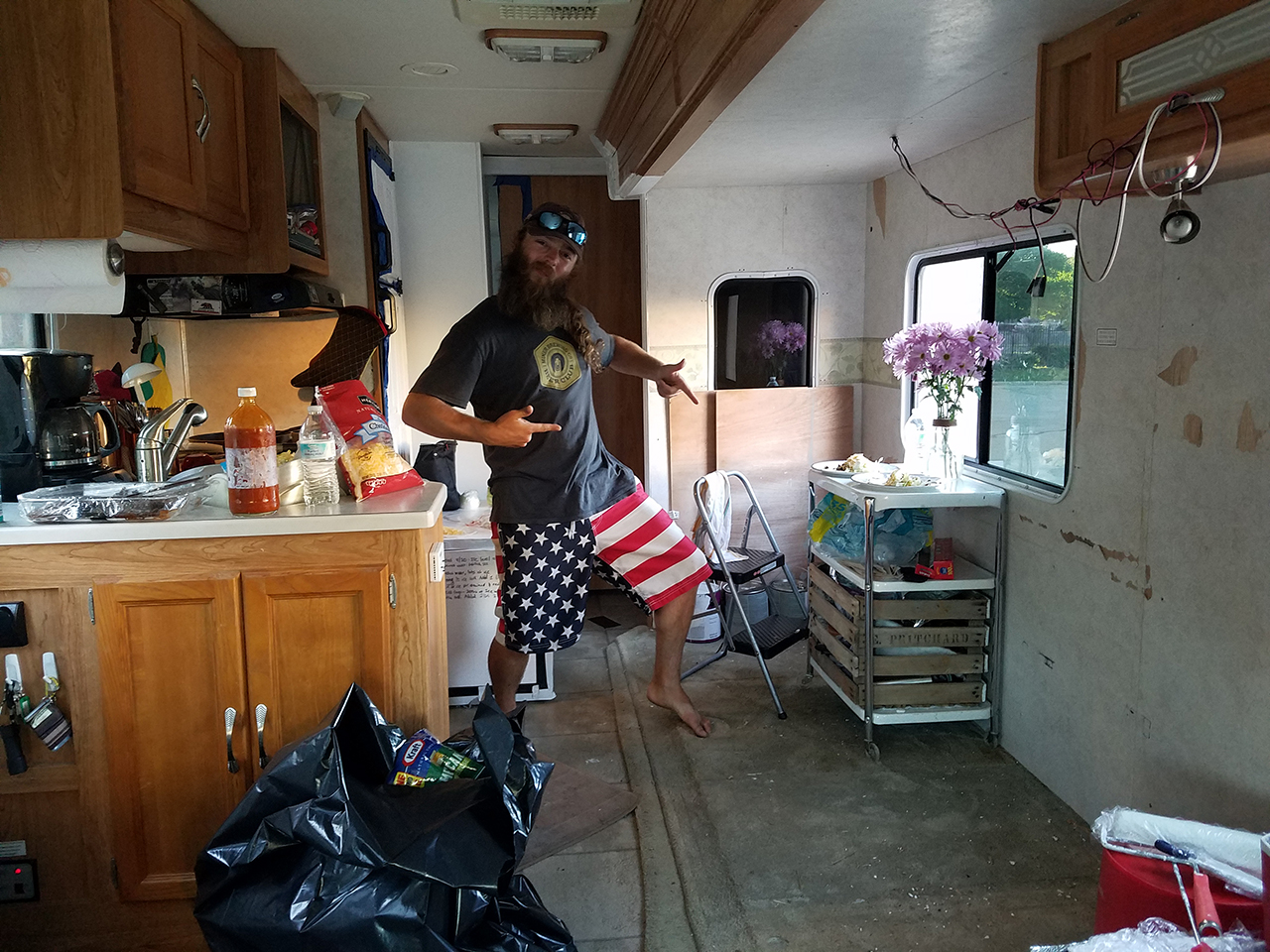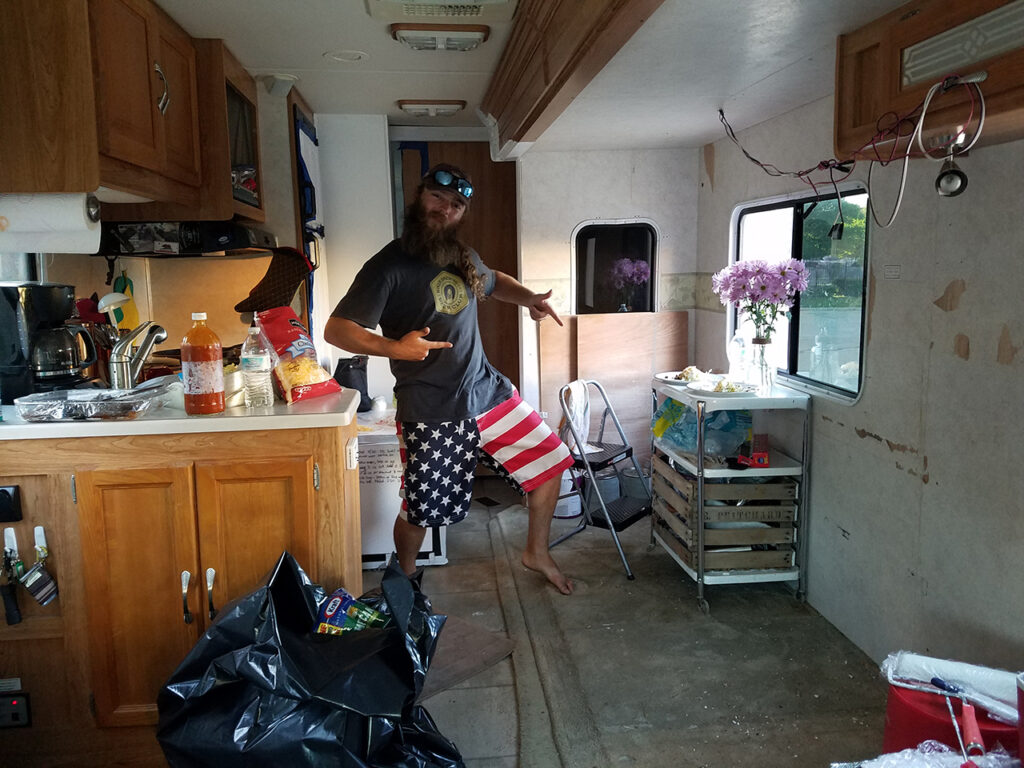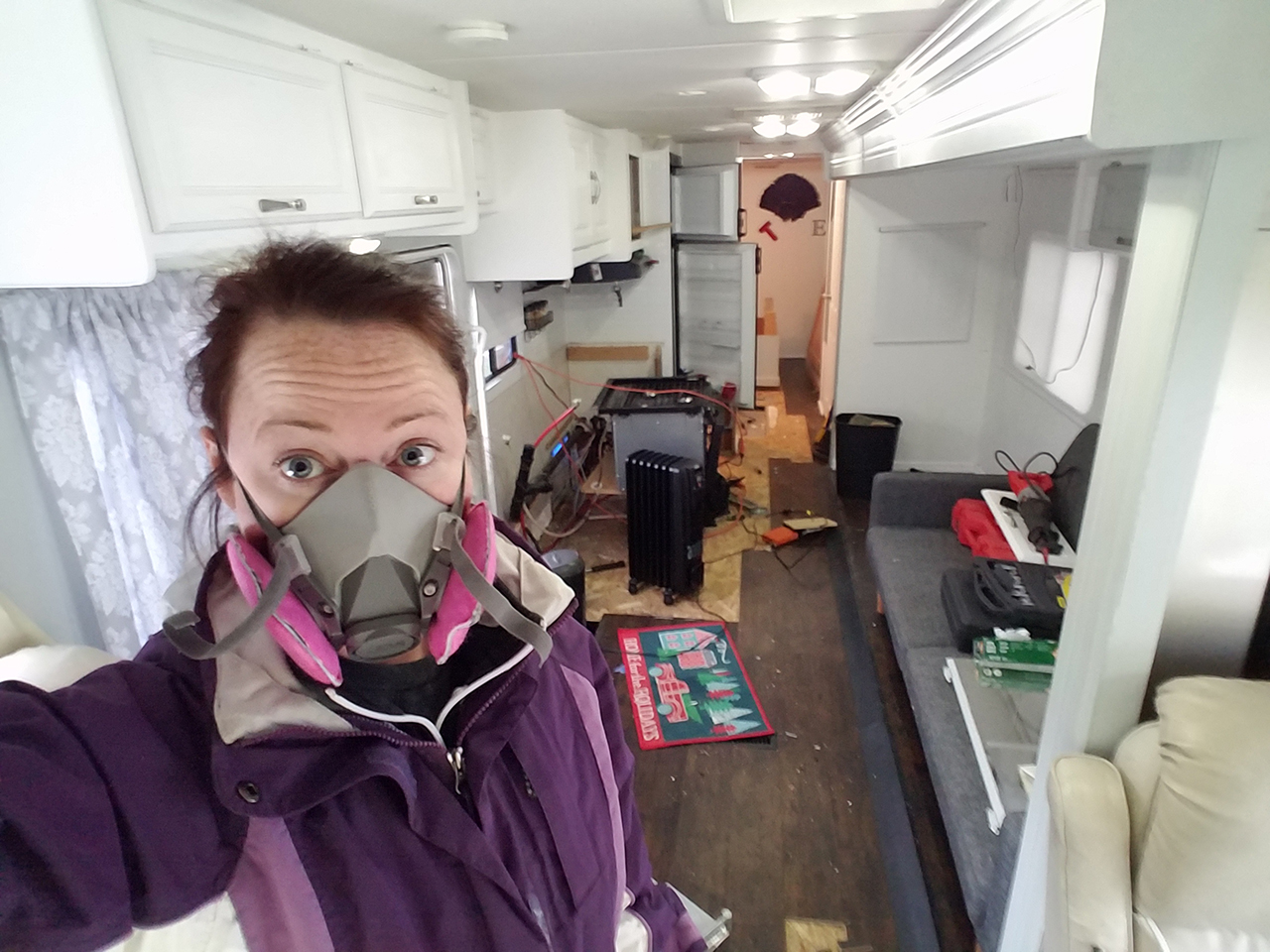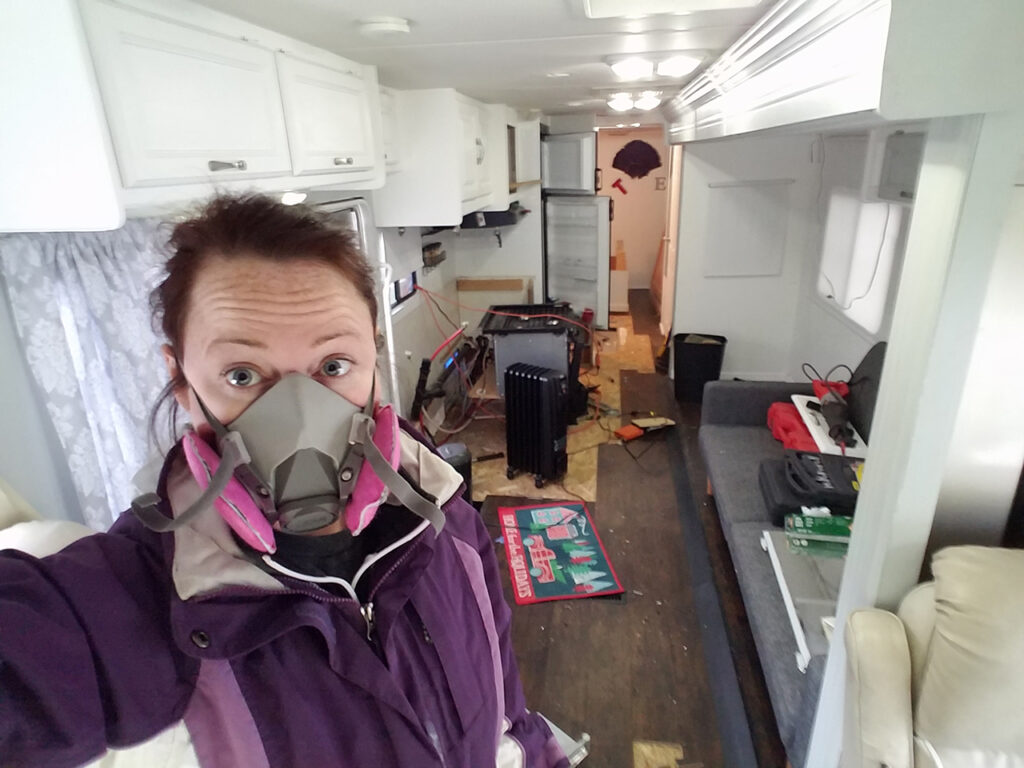 How would you describe your decorating style?
Modern, industrial and cheap! I hate to spend money. I just shop around the gram for design inspo and head to the thrift stores for some DIY magic.
How long did it take you to remodel your RV?
2 weeks the first time… while traveling on our "honeymoon" and boondocking in parking lots during one of those crazy TX heat spells… we were so hot and didn't want to spend money on real tools (since we had some back in our storage unit in Ohio) so we did the entire reno with 1 tiny handsaw and 2 packets of sandpaper… it was miserable- but we got it done and surprised our first guests on the road with our (what we thought back then) amazing new remodel.
The second reno took place this past winter. We were home visiting family for the holidays and luckily had a driveway to stay parked in so we could renovate with real tools and a controlled temperature… while not living in it. This time it took us 3-4 months in total to finish but we did a complete tear down, rebuild on it.
How Much did the renovation cost?
Ooph… the first or second time? 😉 Lets just say way too much! I think somewhere around 7K in total but we bought the RV from family and scored an amazing deal on it so we didn't mind spending some cash. Also needed a new fridge and hot water heater so bye bye $3,000 right there.
What was your least favorite project?
The plumbing! We STILL are having issues with our plumbing… which is a great lesson for anyone wanting to renovate their rv, or any home for that matter, some projects should be left to the professionals. We should have just left the plumbing to a plumber… I would give my left elbow to not have to deal with these leaks anymore.
What project made the most difference in the space?
Taking out the dinette! Seriously so much more space and it gave us the area to create a cozy dining bar- which works much better for us.
What is your favorite project?
Probably our tub. It's a stock tank tub used for feeding horses. It was about $80, came straight from Amazon (the delivery guy even laughed the entire way as he carried that tub from his truck to our motorhome). It was a massive undertaking but in the end, it's our show stopper and it makes me happy every day… also great to hold stuff while we travel.
Where's your favorite place to shop for décor?

Cost Plus World Market. I also love that there aren't as many of them so when you stumble upon a town with one in it, we always make it a point to stop in.
What's your favorite aspect of tiny living?

Not really a fan of having to get rid of our stuff… Andy had the biggest problem downsizing… but the trade off is we get to travel. We get to travel and bring our home with us and that is priceless… who needs all those material possessions anyways?!
What has been your favorite place to explore so far during your journey?
We had an interesting time exploring The Keys. We worked down there just after Hurricane Irma hit so in a way we were like first responders. It wasn't glamorous or safe or livable when we reached. Driving our big ol motorhome down those streets to Ramrod Key felt like playing a video game. We were swerving and dodging trees, boats, garbage, virtually unrecognizable items were just spewed everywhere. It was 2 months I will never forget and will always cherish.
(This post was originally published in 2018 on mountainmodernlife.com)

follow along
learn more about @us3andtherv:
INSTAGRAM
Wanna share your RV renovation journey, ask questions, find inspiration, and discover recommended products and resources?