Disclaimer: This post may contain affiliate links, meaning if you click through and make a purchase those featured in this post may earn a commission at no additional cost to you.
about this RV renovation
Type of RV: 2005 Keystone Springdale travel trailer
Renovated by: @ourtribeof5ive / Timeline: 6 months+
Tara and Michael went from flipping their house to flipping their camper. Their modern boho travel trailer, affectionately named Clark, now serves as a vacation home on wheels for their family of five.
The interior of their RV is full of stylish DIY projects that are sure to inspire, including slat walls, real tile they installed in their kitchen, and countertops they painted after a few stain mishaps.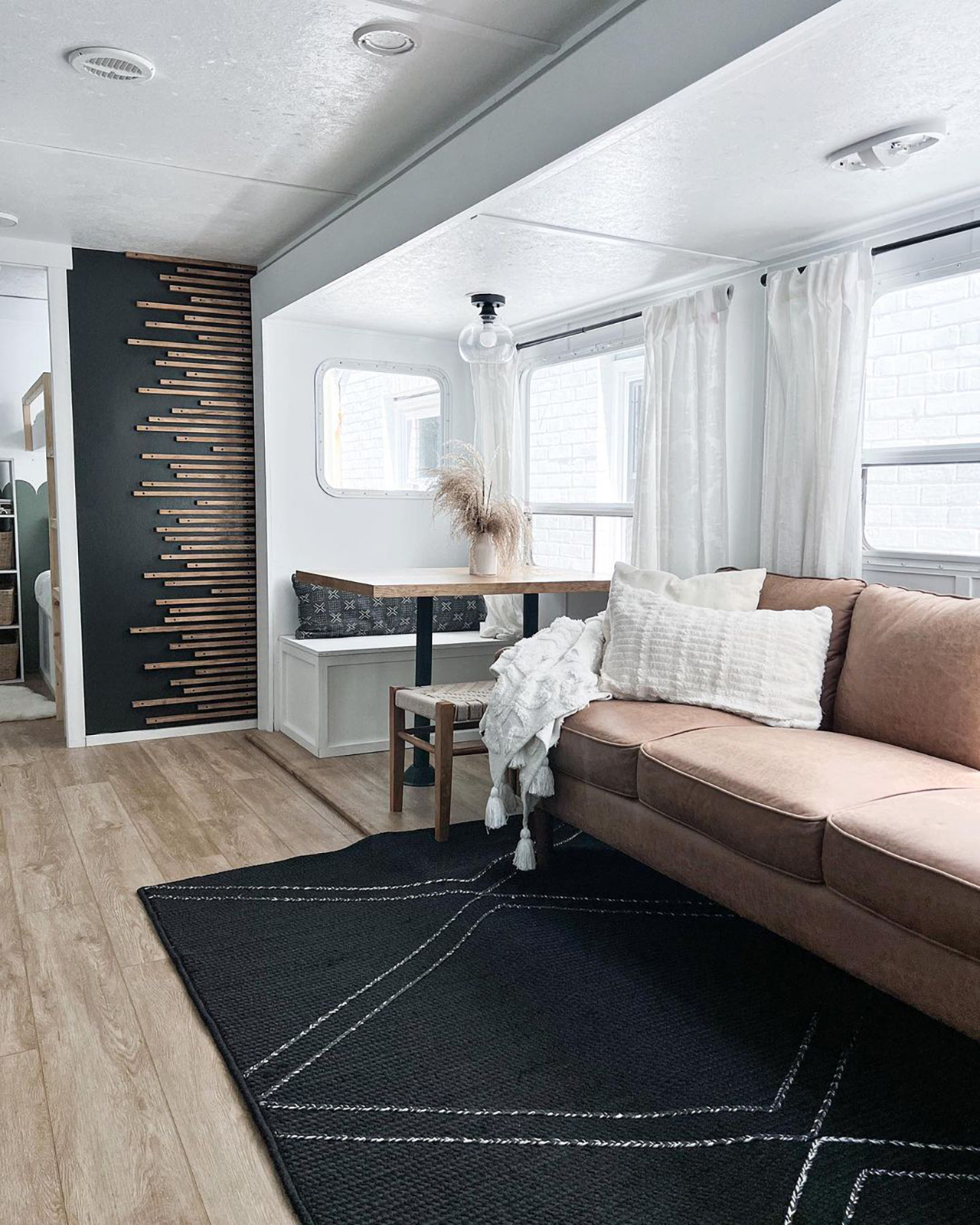 what inspired you to experience RV living?
Our friends @gnarlyzarleys gave us the push to travel when they bought their skoolie.
How would you describe your decorating style?
Boho
how often do you travel?
Try for twice a month.
What's your favorite aspect of interior design?
The ability to transform a space and witness my vision come to reality.
WHAT'S YOUR FAVORITE ITEM THAT WAS INCORPORATED INTO THE INTERIOR?
Definitely both slat walls. Brought so much character to the space!
WHAT PROJECT MADE THE MOST DIFFERENCE?
The master bedroom, turning the bed sideways like a daybed.
WHAT WAS MOST CHALLENGING ABOUT THIS RENOVATION?
Rot repair in the master and bunkroom.
"We were forced into painting our countertop after 27 fails of staining/polying/sanding/crying. Best mistake ever because I freakin LOVE how it looks! $17 + a few foam rollers later and we have this beauty."
– TARA OF @OURTRIBEOF5IVE
WHAT'S YOUR FAVORITE AND LEAST FAVORITE ASPECT OF TINY LIVING?
Less clutter, less to clean. Least favorite is the black water debacle every trip LOL.
WHAT ARE YOUR FAVORITE PLACES TO SHOP FOR DECOR?
TJMAXX, Amazon, Target
WHAT DO YOU LOVE MOST ABOUT YOUR RV?
How spacious it is, especially the bunkroom!
WHERE WOULD YOUR DREAM RV VACATION BE?
Literally anywhere. Life is better in an RV.
MOST ASKED ABOUT PRODUCT SOURCES:

Kitchen Cabinet Color: SW Rosemary
Painted Kitchen Countertops with Rustoleum Appliance Epoxy Paint
What piece of advice would you give someone about to begin an RV renovation?
You can easily be overwhelmed once you start ripping things apart! Take it easy, and work room by room instead of bouncing around.
(This post was originally published on mountainmodernlife.com)

follow along
Learn more about this renovation:
INSTAGRAM
Wanna share your RV renovation journey, ask questions, find inspiration, and discover recommended products and resources?