Disclaimer: This post may contain affiliate links, meaning if you click through and make a purchase those featured in this post may earn a commission at no additional cost to you.
about this RV renovation
Type of RV: 2005 Fleetwood Prowler Regal
Renovated by: Katy + Bo Strickland (@home.sweet.camper)
Timeline: 1.5 years (only working on it on the weekends) / Budget: 15k
Katy and Bo moved into their RV, a renovated Fleetwood Prowler, right after they were married 1.5 years ago. And although the interior is now stylish and set-up for full-time living, it certainly didn't start that way.
This couple dealt with massive water damage in the roof and floor, but they continued to push forward and their hard work definitely paid off. Let's take a peek inside their cozy home on wheels.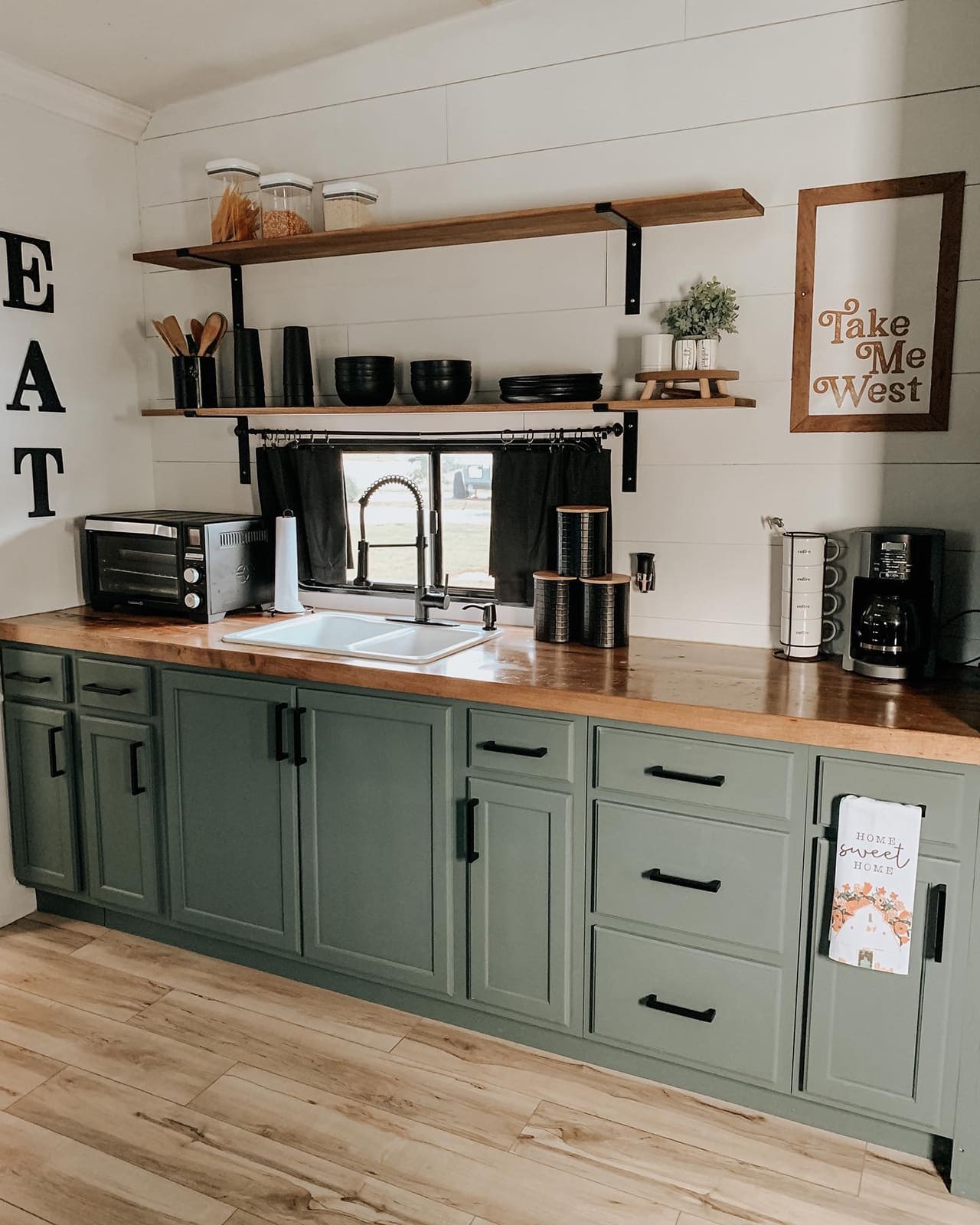 what inspired you to experience RV living?
Originally wanted to travel for my husband's work, but work actually picked up for him around our hometown, so we haven't been traveling, just staying stationary for now.
How would you describe your decorating style?
Black, black, and more black. I originally wanted a farmhouse look with the shiplap, but then it started turning into more of a western/boho vibe.
What are your favorite places to source products and decor?
Target and TJMaxx for decor. All materials for the rebuild come from Home Depot though.
Do you collect anything or is there anything you look for during your travels?
We like to look for small restaurants, none of the chains you can find everywhere. Bonus if they have good wings.
What's the most meaningful or splurge-worthy item you incorporated into your RV interior?
Splurge-worthy is definitely our toaster oven. It's an oven but has different settings for air frying, toasting, broiling, etc. It was a pretty penny but worth it.
WHAT WAS MOST CHALLENGING ABOUT your 5th wheel RENOVATION?
Water damage. Our whole roof had to be replaced and this being a 40 foot camper, it was a big job.
What project made the most difference?
Kitchen. We ripped everything out and were able to redesign with cabinets off the shelf at Home Depot. We were setting out cabinets in the aisle to figure out what layout we liked best.
WHAT DO YOU LOVE MOST ABOUT YOUR RV?
I love the fireplace inserts we added. It gives it that home-y feel it was missing before.
What piece of advice would you give someone about to begin an RV renovation?
Avoid water damage as much as possible when shopping for used RVs. Even if it is a good deal, you end up putting that money back into it when you fix it, so you might as well buy one more expensive without the damage.
Do you have a favorite RV destination or camping spot?
Our favorite RV destination is where we are currently. We are parked at a hook-up where it's only us, on about an acre of land (way better than campgrounds we've stayed at so far). The privacy is the best part. Definitely search the Facebook marketplace for rentals in your area, and you might luck out like we did.
Most asked about product sources:
Paint Color for cabinets: Benjamin Moore Caldwell Green (paint matched at Home Depot to use the Behr Marquee paint, it's the best)
Couches: Better homes and gardens futon from Walmart
Flooring: Home Depot Brook Park Oak vinyl flooring
Shiplap: Thinnest sheet of sanded birch plywood, cut to 8 inch strips
Countertops: Husband built out of hard maple

follow along
You can Follow @home.sweet.camper below:
INSTAGRAM
Wanna share your RV renovation journey, ask questions, find inspiration, and discover recommended products and resources?