Disclaimer: This post may contain affiliate links, meaning if you click through and make a purchase those featured in this post may earn a commission at no additional cost to you.
about this RV renovation
Type of RV: 2015 Keystone Cougar 327RES (36 feet)
Renovated by:@uncommonfarmer / Budget: $10,000 / Timeline: 2 months
A recent cross-country trip inspired Chad and Gina Farmer to sell everything they own and travel around the US with their two toddlers. With a business they could run remotely, they decided to put their home on the market and begin the downsizing process.
Before long they were trading their home by the ocean, for a home on the road.
They originally wanted a brand new 5th wheel with a separate bunk room, but ultimately decided to purchase a used one they could renovate to make their own. In an effort to speed up the process, they hired the same General Contractor that worked on their home to paint the interior and install the new flooring.
Their renovation included reimagining part of the slide-out with custom bunk beds and storage for their sons (built by Argus Woodworks) and modifying their existing dining table to make it fit inside their tiny home on wheels.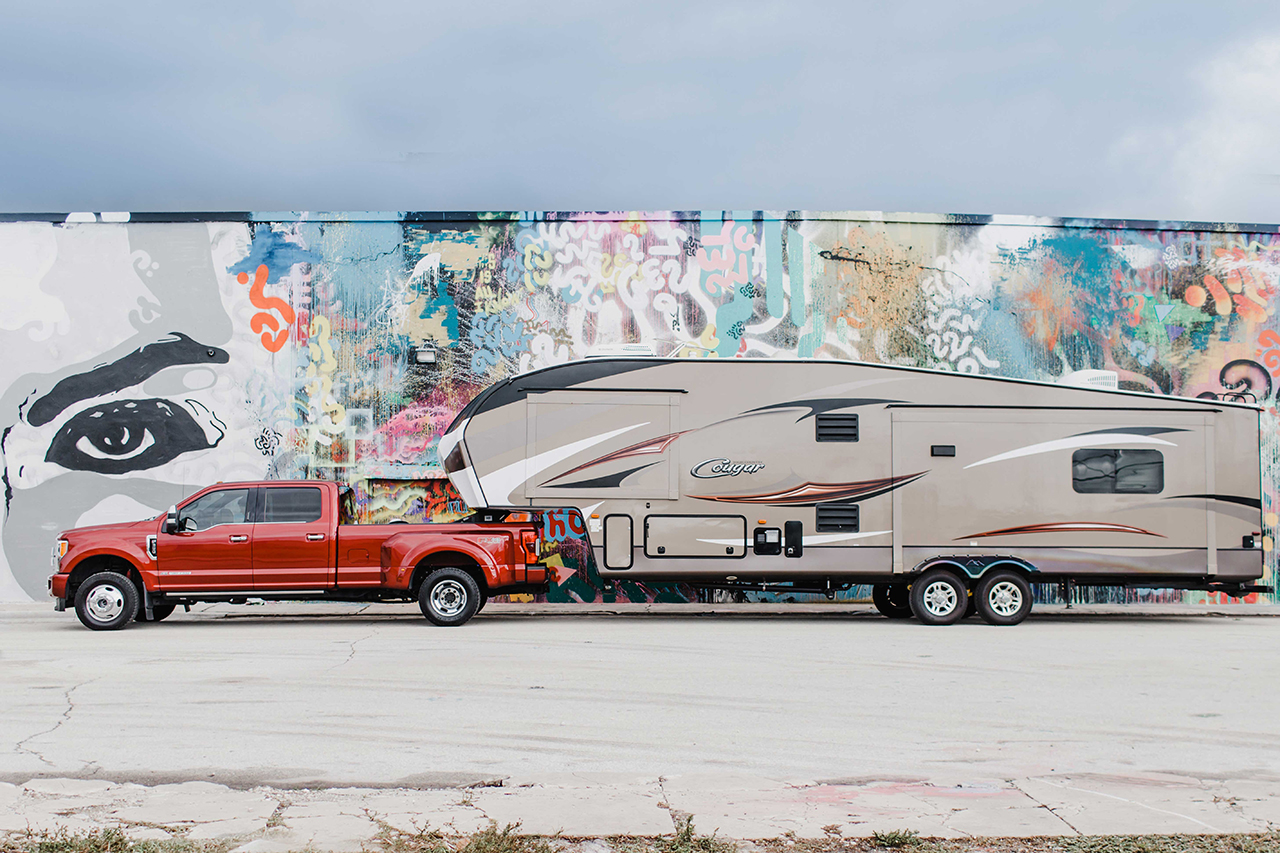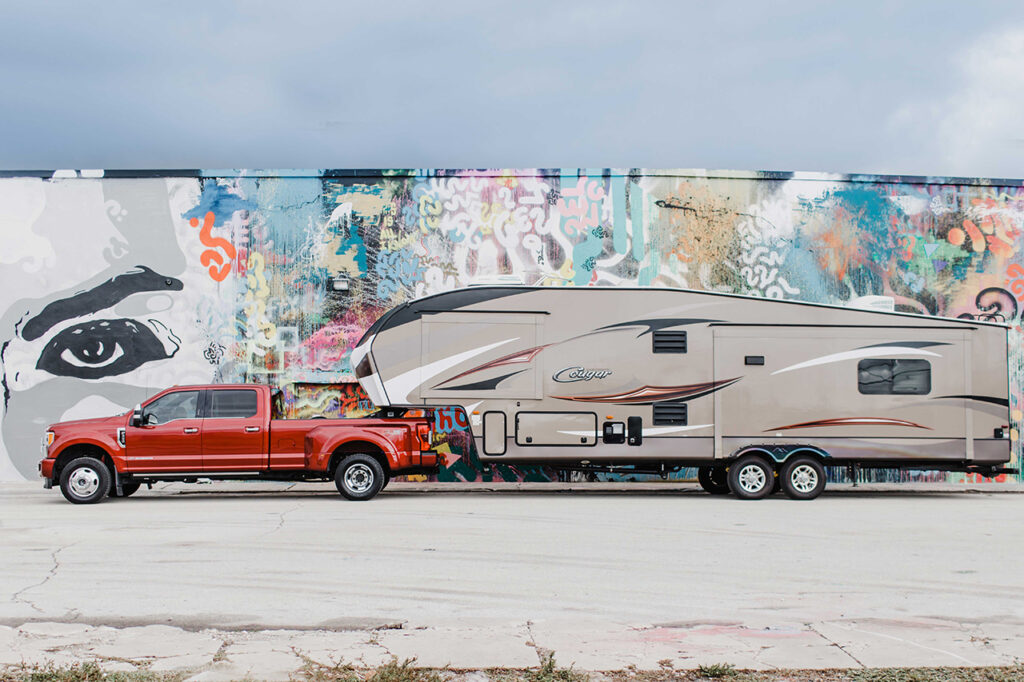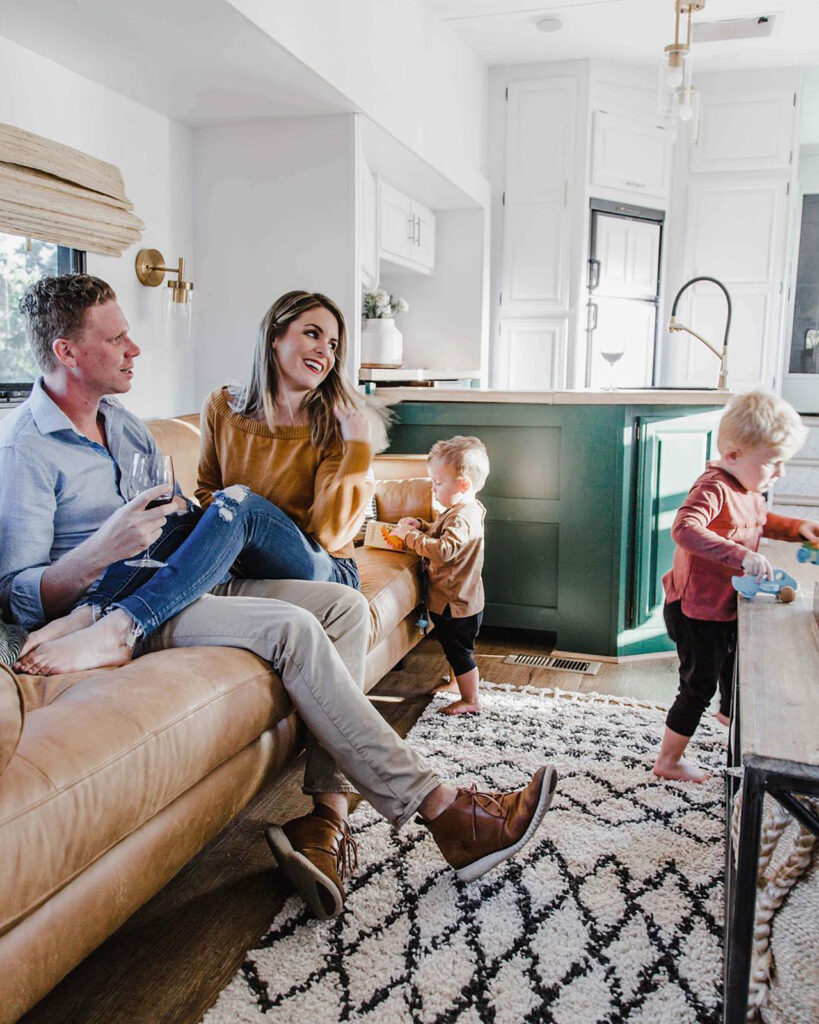 What led you to tiny living?
We were driving in the car the day we made the decision to RV full-time. I was scrolling through pictures from a previous trip when I looked over at my husband and asked him if he would ever want to do this full time."Yes!" He said without a moment of hesitation. – Yikes! I didn't initially expect that! We were established, comfortable, had family close by, and good friends we could call at a moments notice. But why? Why such a huge lifestyle change?! Good question! I'll let y'all know when we figure it out…
We literally have no idea what we are doing.
What are you most inspired by or is there anything specific that inspired your reno?
I wanted to create a space that felt bright happy and welcoming to everyone that came in. I love mixing decorating styles and wanted our space to have a little bit of everything.
How would you describe your decorating style?
Coastal/urban (if that's even a thing). I love natural color tons with a little twist.
Where's your favorite place to shop for décor?
Anthropology and Amazon
What project made the most difference?
Paint!
What project was the most challenging?
Electrical was one of the most challenging aspects. RV electrical is no joke!
Do you have any future projects or changes planned for the interior?
We want to complete the bathroom. Currently, we have the original shower and hardware.
What's your favorite aspect of RV life?

The quality time our family now spends together. Instead of spending hours getting distracted by tv, cleaning, maintaining a home, our time is now spent together enjoying each others company.
What's your least favorite aspect of tiny living?
Long hot showers!
What is something you've learned in general or about yourself since going tiny?:
That fear is okay. Being sad is okay. They are emotions that are needed to truly move forward and let things go.
What area are you excited to explore?
We are beyond excited about exploring the northeast this summer. We will be visiting Acadia National Park and Prince Edward Island (Anne of Green Gables lover here).
What advice would you give someone about to begin an RV renovation?

Just do it! Don't be afraid to take the step and start ripping cabinets out.
most asked about product sources:
Paint: Glidden Dove White, BEHR Vine Leaf
Flooring: DuraLux Waterproof Vinyl
Kitchen Butcher Block: Ikea
Sofa: Article
Dining Chairs: Target
Dining Room Light Fixture: Amazon
(This post was originally published in 2019 on mountainmodernlife.com)

follow along
You can learn more about @uncommonfarmeR below:
INSTAGRAM
Wanna share your RV renovation journey, ask questions, find inspiration, and discover recommended products and resources?