Disclaimer: This post may contain affiliate links, meaning if you click through and make a purchase those featured in this post may earn a commission at no additional cost to you.
about this RV renovation
Type of RV: 2018 Forest River Wildwood 27REI
Renovated by: Brit + J (previously known as Tin Can Ramblers)
Brit and her husband J were living in a 3-bedroom home when they began to crave more adventure in their life. The tiny house movement had inspired Brit and she found herself obsessed with tiny homes and the idea of living in one. J, on the other hand, wasn't sold on living in an actual tiny home but was open to moving into an RV.
While they didn't need to do any major renovations, they still wanted to transform the new travel trailer into a space that reflected their own personal style and story. The result is a plant-filled and incredibly welcoming tiny home with Southwestern vibes.
Brit's job is based out of Nashville and J works remotely, so they are mostly stationary, but make trips when they can. Their dream is to eventually build a small home in the mountains, but have no timeframe or deadline for when that may be. For now, their goal is to pay off debt and travel, all while pursuing financial freedom.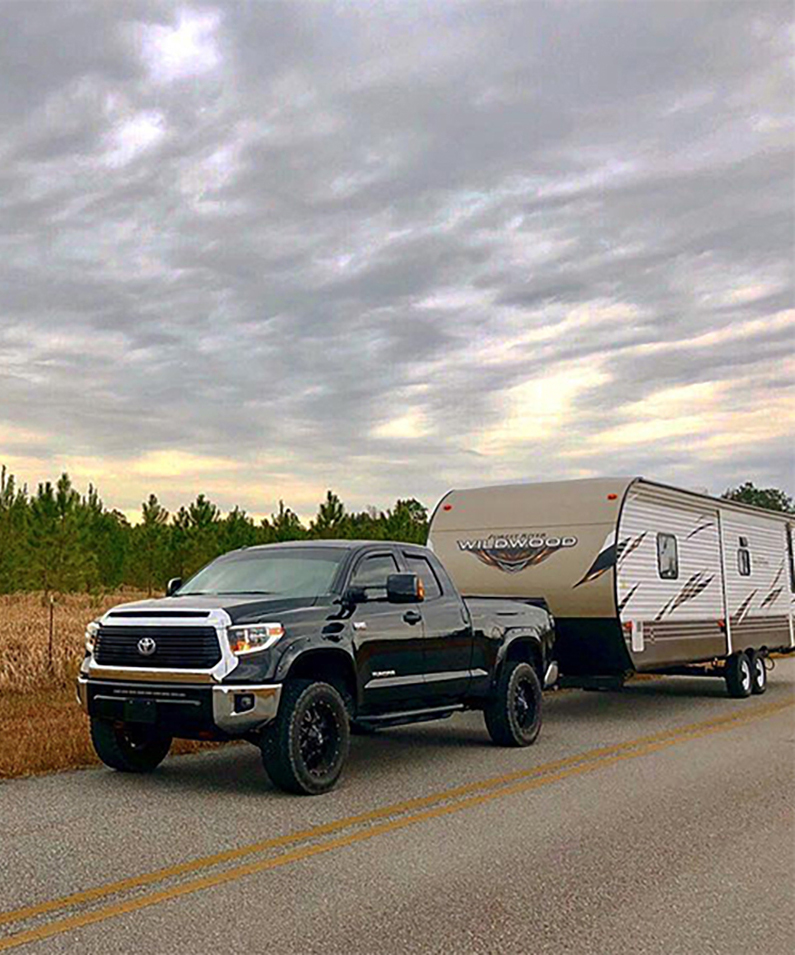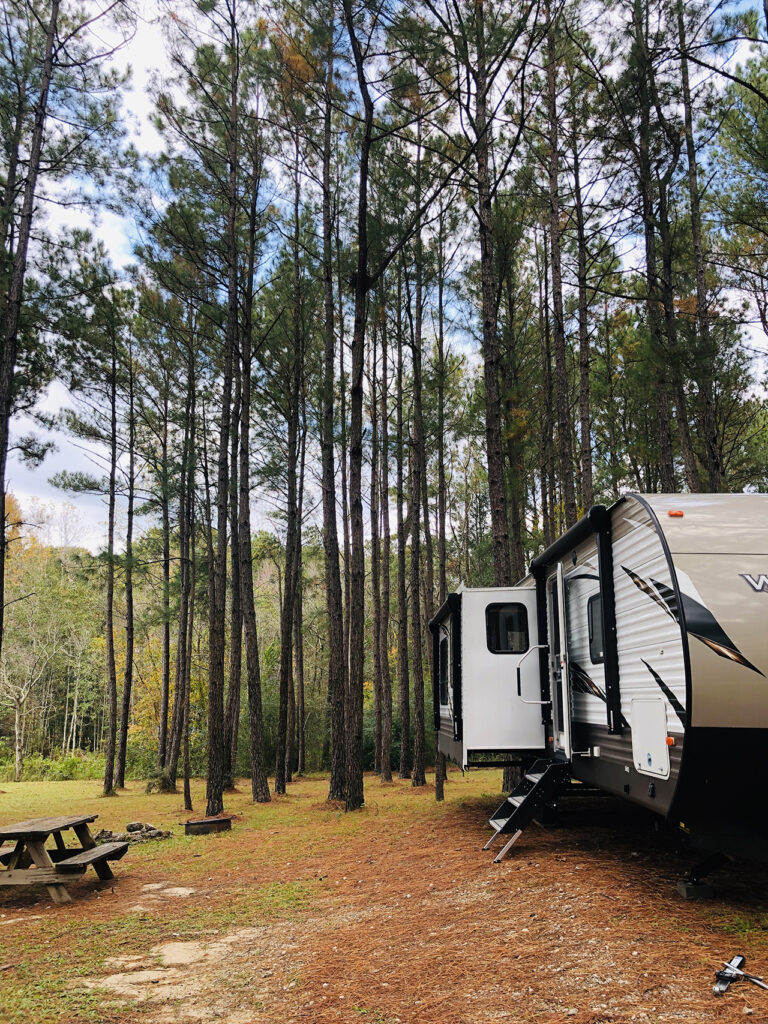 What led you to tiny living?
Our goal in living tiny was to pay off debt and travel more! We were living in a 3 bedroom house and it was just the two of us and our dog (rocky) at the time. I (brit) had been obsessed with tiny houses and kept sending my husband (j) all the articles + photos I could find on living tiny. He wasn't sold on a tiny house but pitched the idea of an RV and the rest is history. We sold our house and started renovating a 1980 Airstream Excella, which we lived in for a year until we decided we wanted a bit more space and bought the travel trailer that we currently live in and renovated – and we added another dog – Charlie =)
Do you travel or are you stationary?
Currently stationary
How would you describe your decorating style?
Where's your favorite place to shop for décor?
TJMaxx + Target + Amazon
What project made the most difference?
Paint paint paint. When we bought our RV I could not wait to paint it all (haha) – but really it made such a big difference and from there we would just do projects here and there to improve the space. Most recently we replaced the slide trim which made the space feel so much different!
Do you have any future projects or changes planned for the interior?
I am always coming up with something to add or change (my husband loves that – haha). The next project on our list is to replace the bathroom mirror cabinet with a new mirror. I would love to replace the flooring one day, but I don't think I will win that battle =)
What's your favorite aspect of RV life?
Having less stuff! It was so eye-opening when we started going through all of our belongings and determining what was essential to us. We hadn't realized how much stuff we had that we didn't even need!
What has been your favorite place to explore so far
We visited Colorado for the first time last year and fell in love with it. We want to go everywhere though and can't wait to explore the western united states.
most asked about product sources:
Wall paint: Sherwin Williams – HGTV high gloss white paint + primer all in one
Cabinet paint: we recently painted over the cabinets with black chalkboard paint
Cabinet hardware: Amazon (brushed brass handle pulls 6 3/8″)
Blinds: lowes (Levolor brand in tatami color)
Feather Wall Hanging: @nomadicknot
Living Room Coffee Table and Side Table: TJ Maxx
Dining Table – This is the original table reimagined!
Black Shelf in Bathroom: Target
Bedroom Shelf: Hobby Lobby
Bedroom Hanging Light: Amazon
Bedroom Blanket Curtain: Love's Truck Stop
(This post was originally published in 2019 on mountainmodernlife.com)
Wanna share your RV renovation journey, ask questions, find inspiration, and discover recommended products and resources?