Disclaimer: This post may contain affiliate links, meaning if you click through and make a purchase those featured in this post may earn a commission at no additional cost to you.
about this RV renovation
Type of RV: 1996 Damon Ultrasport Motorhome
Renovated by: @GypsyAndAPirate / Budget: Roughly $6,000 / Timeline: 3-6 Months
One of my favorite aspects of this 90's motorhome renovation are the details. These two really personalized the space and wove their story throughout the design, which makes it really stand out. This includes the hand-painted compass you see when you first walk in and their test tube sand collection.
It's details like these that really help transform a space into a home.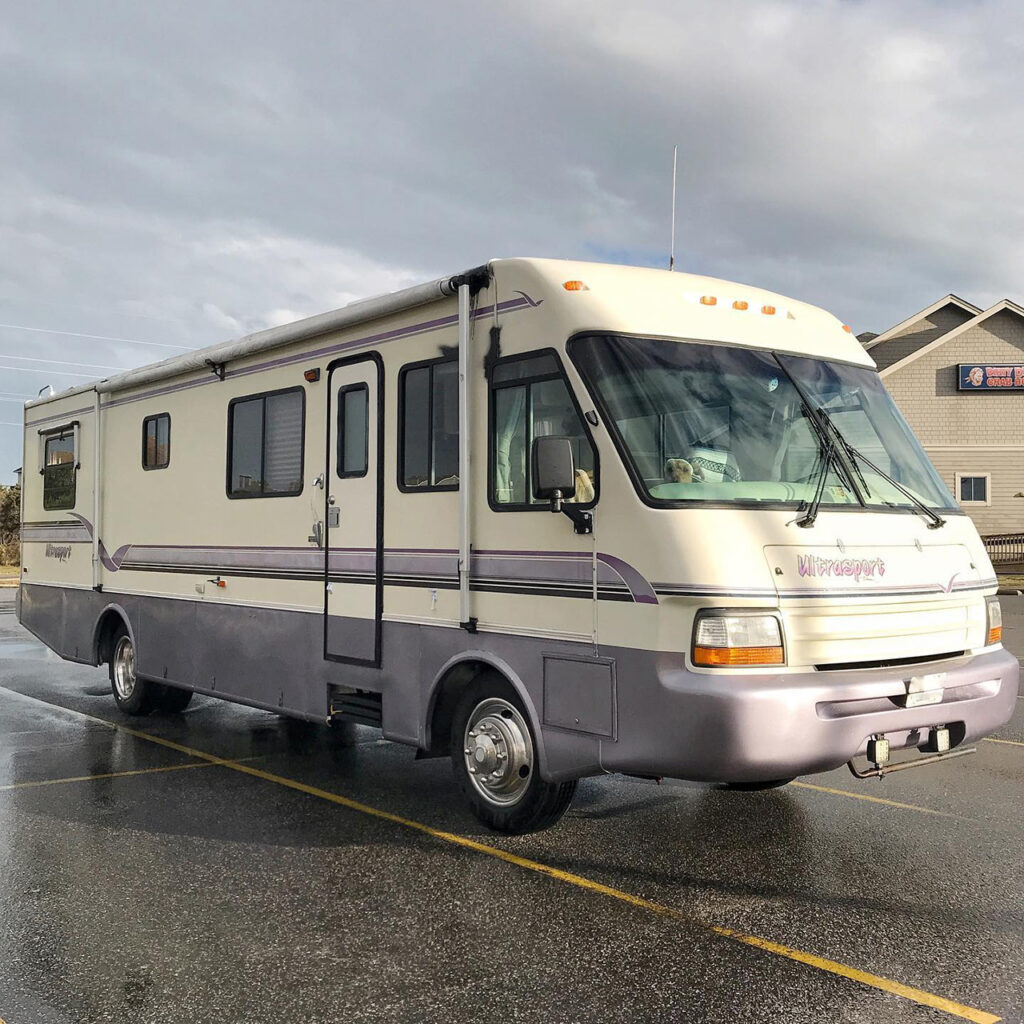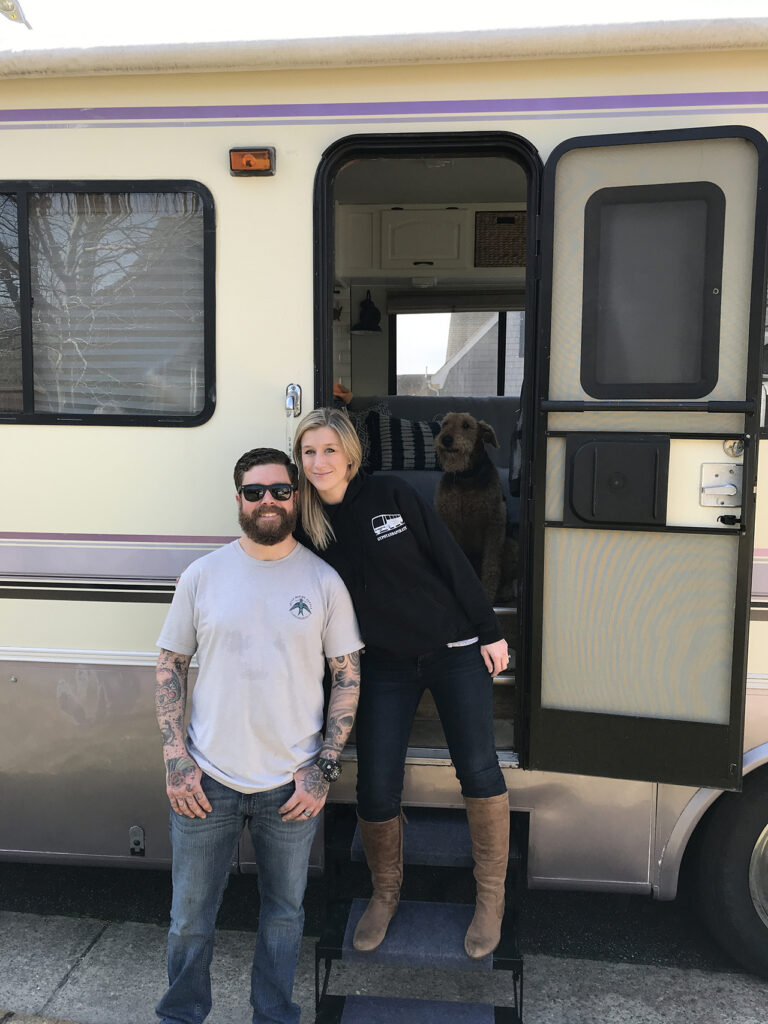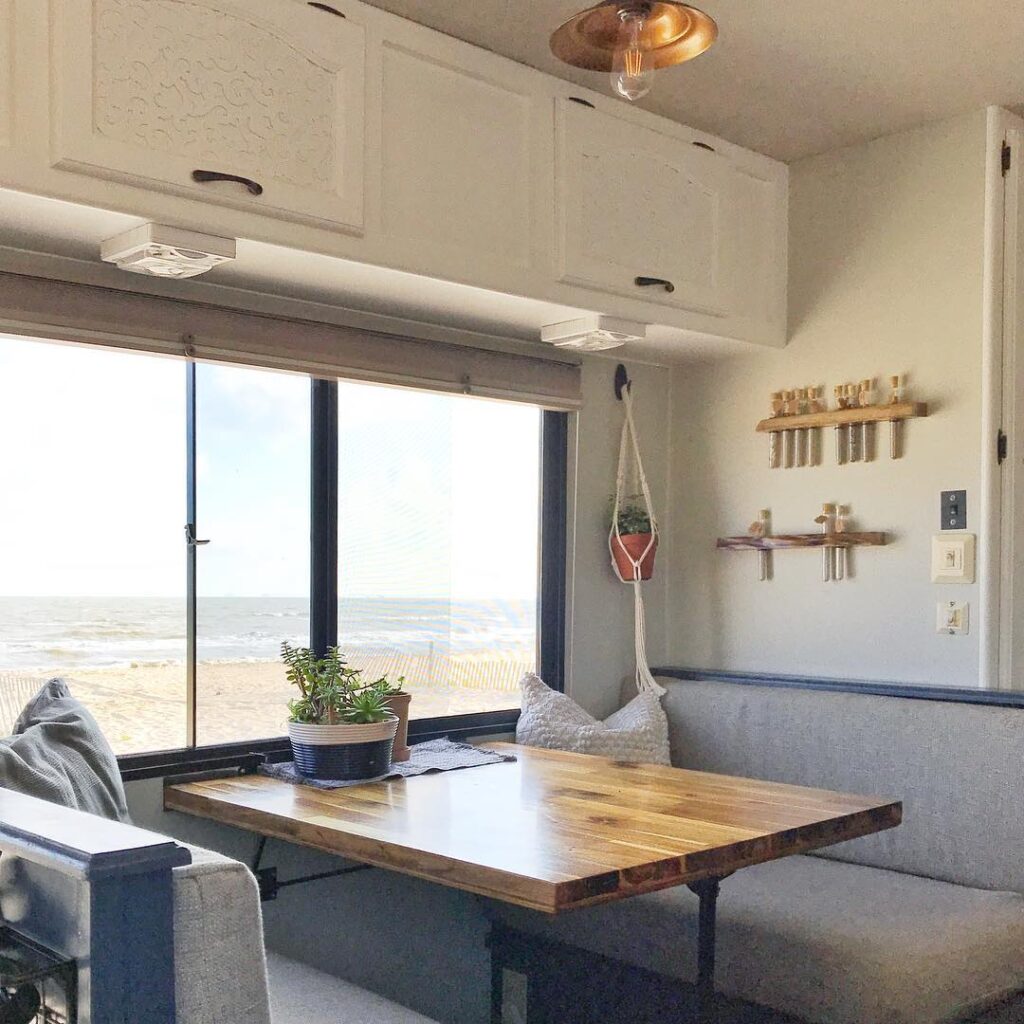 What led you to tiny living?
So many things! I think, above all else, we wanted to find a way to live our lives as deliberately as possible. The years pass way too quickly no matter how you spend them, so we wanted to be sure we were making the most of every moment that we are lucky enough to have.
How long did it take you to remodel your RV?
It took us over a year to complete, but we had very few consecutive days to actually work on it. I think if we had full weekends, or an uninterrupted break, it would have taken closer to 3-6 months.
What project made the most difference?

Painting! Is that too obvious an answer? This took FOREVER, but the impact was immeasurable.
What was most challenging about your 90's motorhome renovation?
For us, the most challenging part of our renovation was not having the time to really spend on it for the first 6 months. We had our RV in a storage facility, and in order to work on it had to drive 30 minutes to pick it up, then bring it to a workable space. We then had 24-48 hours to work on it, and the set up/break down process took up a good chunk of that time. Luckily, for the second half of the renovations, we were able to keep it on a friend's property which helped us make far more progress. Otherwise, we would probably still be renovating.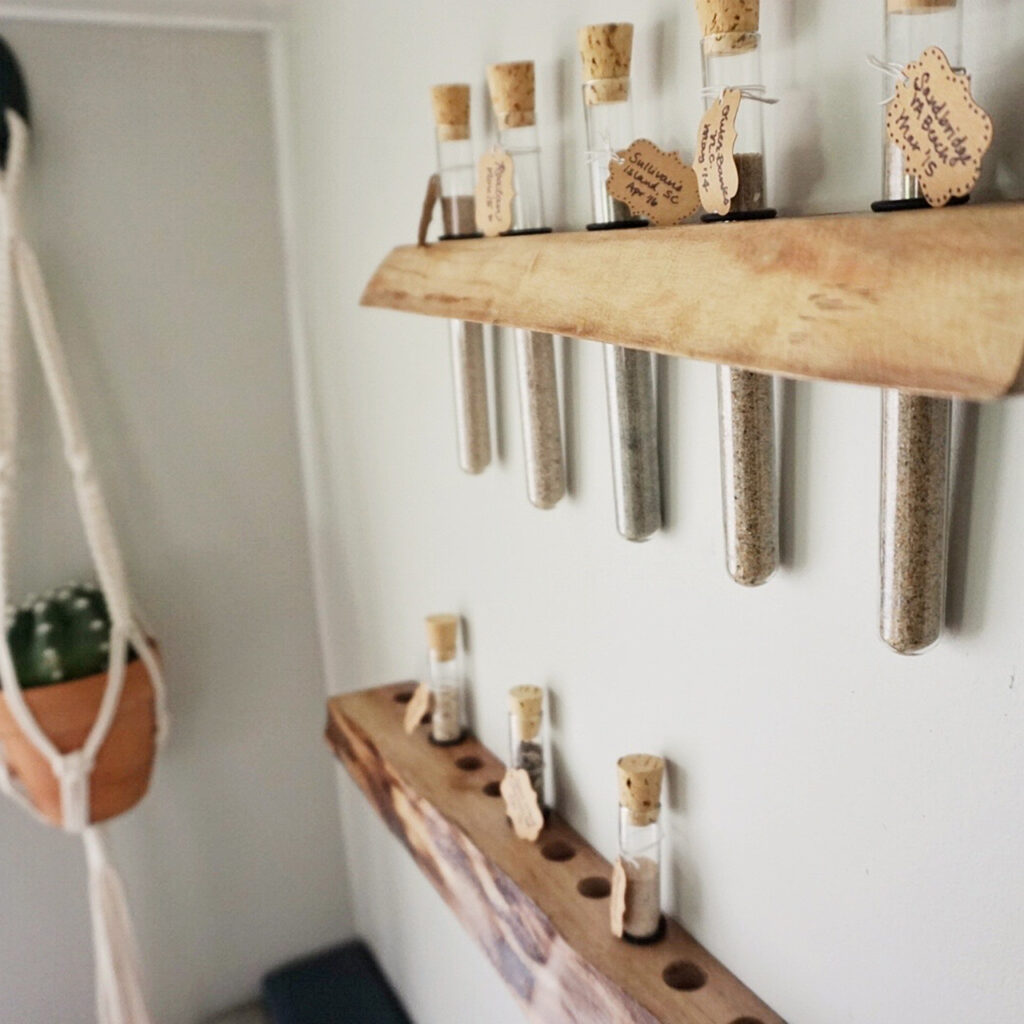 What's your favorite project?

Man, is it tough to pick one! So I'll pick two. I love our test tube sand collection – I think it is beautiful and personal and is a (sort of) functional piece of art for us. I also really, really love our kitchen countertops – we did a faux marble finish that I truly did not expect to be a success, but turned out to be one of our most impressive accomplishments.
What was your least favorite project?

I was lucky enough to not really have to do any of the projects that I didn't enjoy. With that said, if you ask Pat, his least favorite was probably re-running all the plumbing lines. If you're doing it on an existing build, it requires Cirque du Soleil level contortion, and he's about as flexible as a hammer.
Where's your favorite place to shop for décor?
Target, for sure. There are so many other beautiful home decor stores and sites that I adore, but this girl's got a beer budget and champagne taste, so I make the most with what we've got!
What do you enjoy most about your motorhome renovation?

This is the first home I've ever renovated and I can honestly say I enjoy every single inch of it. When you have had your hands on every single inch of a space, you have a deep love and respect for it that I didn't know I could have. I spend the majority of my time in the kitchen area – in addition to being the place we eat the dinette serves as a workspace. Also, that window often has the best views.
What's your favorite aspect of tiny living?
I love that being in a small space requires you to get rid of all the excess and all the distractions. I get to fill my home with only the things I truly love and need. Also, I think it has given Pat and I a chance to grow closer together, in other ways beyond just physical proximity.
What has been your favorite place to explore so far during your journey?
We really enjoyed hiking in Pisgah National Forest, but to be honest, we are anxious to get further west and north. Right now we are in Texas, and all of the places we are most excited to visit are still ahead of us!
What piece of advice would you give people starting an RV/Camper renovation?

HGTV makes it look so easy. SO easy. Be prepared for ALL the setbacks. It will likely take you twice as much money and four times as long to complete your project, but in the end it will be worth it. Also, don't hesitate to ask for help or advice! This RV community is like none I've ever known and there are so many people out there who would love to share their experiences and information with you.
(This post was originally published in 2018 on mountainmodernlife.com)

follow along
learn more about those behind this 90's motorhome reno:
INSTAGRAM
Wanna share your RV renovation journey, ask questions, find inspiration, and discover recommended products and resources?