Disclaimer: This post may contain affiliate links, meaning if you click through and make a purchase those featured in this post may earn a commission at no additional cost to you.
about this RV renovation
Type of RV: Forest River Wildcat 28RK
Renovated by: @kateandkeegan / Budget: $8,000 / Timeline: 10 months
Prior to becoming full-timers, Kate and Keegan were both self-employed and running separate businesses, but despite their success, something was missing. They were so busy and stressed with their careers that they had little time left over to spend with one another.
That's when they decided to switch things up. They detached from the conventional path they were on to renovate an RV and roam the country instead. They now focus on educating and encouraging others to find freedom and flexibility in their work and life. And their Scandinavian-inspired RV interior has come a long way from the dark and dreary appearance it once had.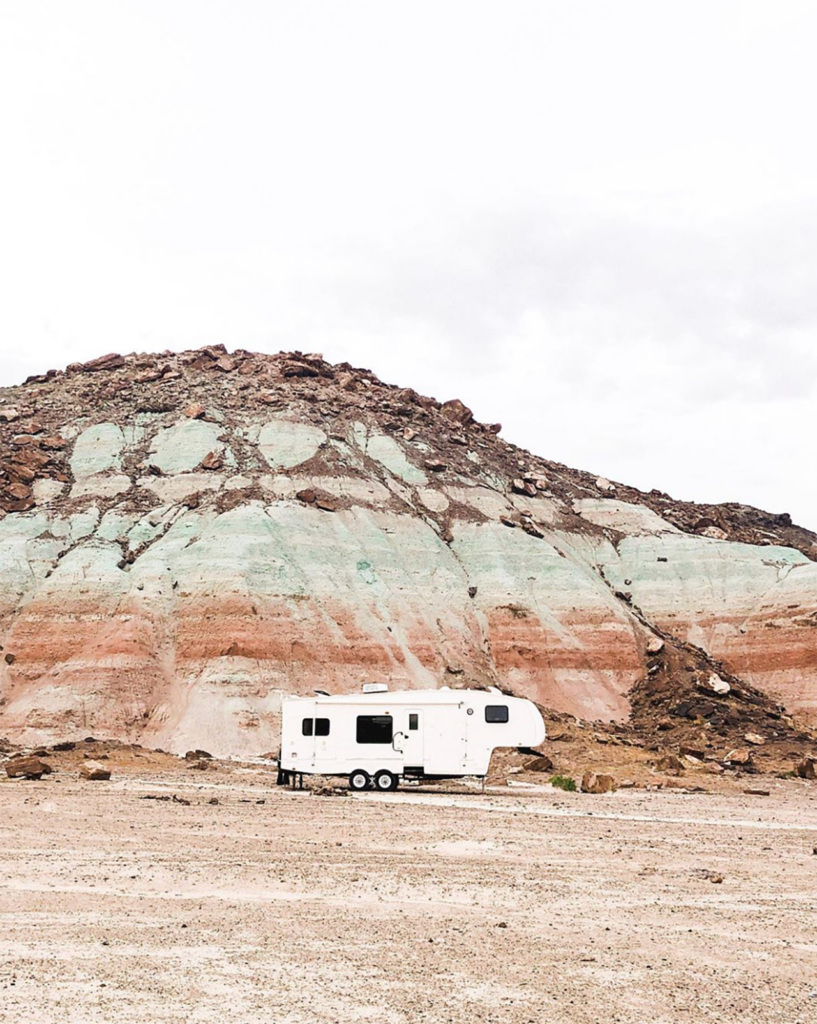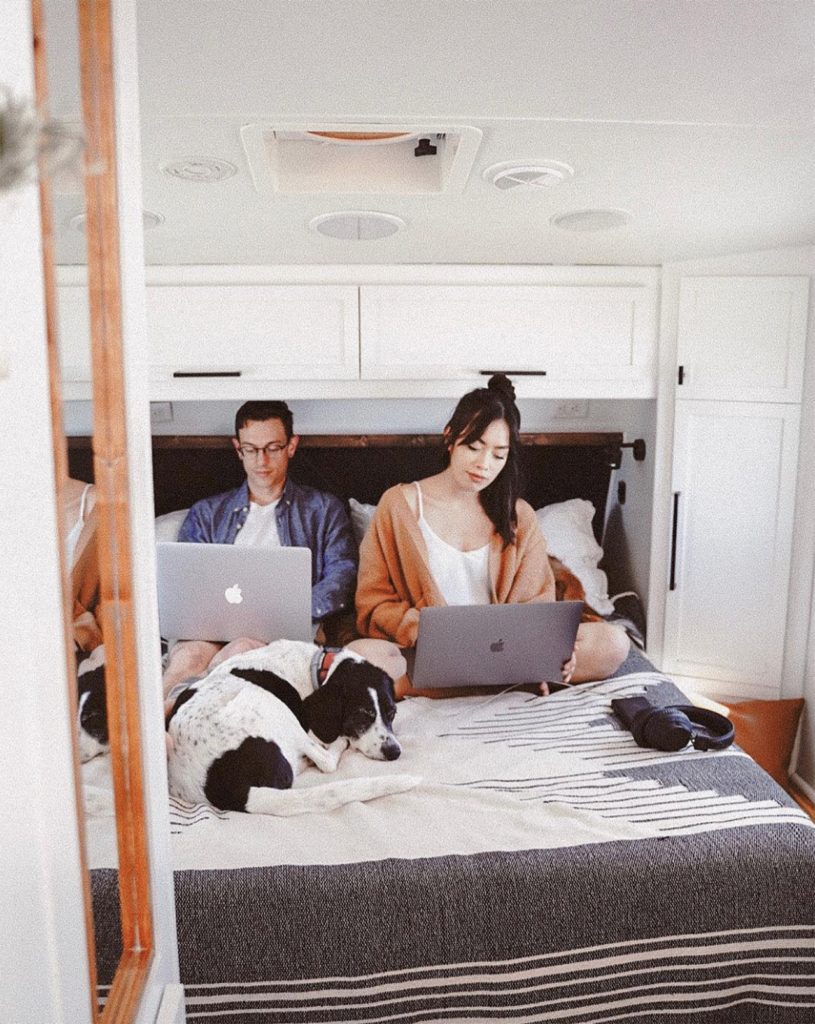 How would you describe your decorating style?
Minimal modern-boho
is there anything specific that inspired your renovation?
We were most inspired by textiles. We love a monochromatic palette but wanted to use textiles to give warmth and depth to the interior style.
What project made the most difference in the space?
The kitchen! We gutted about 80% of the kitchen and designed it for storage optimization.
what was most challenging about your renovation?
Because all of it was so new to us, we often found ourselves having to redo almost every single aspect of the reno at least 2-3x. It's sometimes best to learn what is the best method for you or your rig after some trial and error.
Do you have a favorite tiny home hack?
A kitchen that utilizes functionality & storage optimization. We are able to fit an obscene amount of appliances (Vitamix, food processor, air fryer, instant pot, full set of pots and pans… Just to name a few!) We even have a full sized pull out trash bin under the sink! Rebuilding the entire kitchen was the best thing we could have done for our tiny home transition.
"Honestly, if we would have waited until the renovation was done and perfect — we would still be there, missing out on the awesome little adventures in store for us.
If travel is what you want, don't wait y'all. Perfect floor trim or a beautiful renovation means nothing in the long run. I just wish we had done less to our build — we would have been out here a hell of a lot sooner."
Kate from @kateandkeegan
Where's your favorite place to shop for décor?
Etsy – finding handmade artisan pieces makes the small things feel special.
What's your favorite aspect of RV Life?
Gratitude. We feel beyond grateful for every square inch. We enjoy and appreciate every bit of space more than we ever have before. It's so humbling to live tiny.
what's your least favorite aspect?
If it's not perfectly clean and tidy, then it can feel cluttered and messy. Finding the livable in-between takes time. Hopefully, we can settle into a cleaning routine that makes the space feel constantly tidy, without cleaning all day.
Is there anything you've learned about yourself since going tiny?
I "need" less than I always thought I did. It's amazing just how much less you need; and it's even more amazing to find that having less doesn't mean being less happy or satisfied.
What piece of advice would you give someone about to begin an RV renovation?
Give yourself a budget, then add 30-40% on top of that. The same goes for your renovation timeline. Time and money seem to slip away faster than you think!
most asked about product sources:
We get asked a lot where our flooring is from. It's vinyl plank from home depot called Sante Fe maple. Our couch is from overstock!
(This post was originally published in 2019 on mountainmodernlife.com)

follow along
You can learn more about @kateandkeegan at the links below
Wanna share your RV renovation journey, ask questions, find inspiration, and discover recommended products and resources?