Disclaimer: This post may contain affiliate links, meaning if you click through and make a purchase those featured in this post may earn a commission at no additional cost to you.
about this RV renovation
Type of RV: 2013 Open Range 427BHS 3 Axle
Renovated by: @r.maria.fuller / Timeline: 8 Weeks
Creating a beautiful home is one thing, but creating a beautiful home that tells a story is another. That's exactly what Maria and her husband, Sean, have accomplished in their tiny home on wheels. They made the choice to quit her husband's ordinary day to day job to take a chance on a traveling job, which has since completely changed their lives (in a good way!).
Maria has a natural talent for blending old and new, so it's no surprise the interior of their renovated fifth wheel has old-world charm. The rustic wood beams, painted faux brick backsplash, and collection of thrifted finds gives this RV character and warmth, making it one incredibly cozy home on wheels.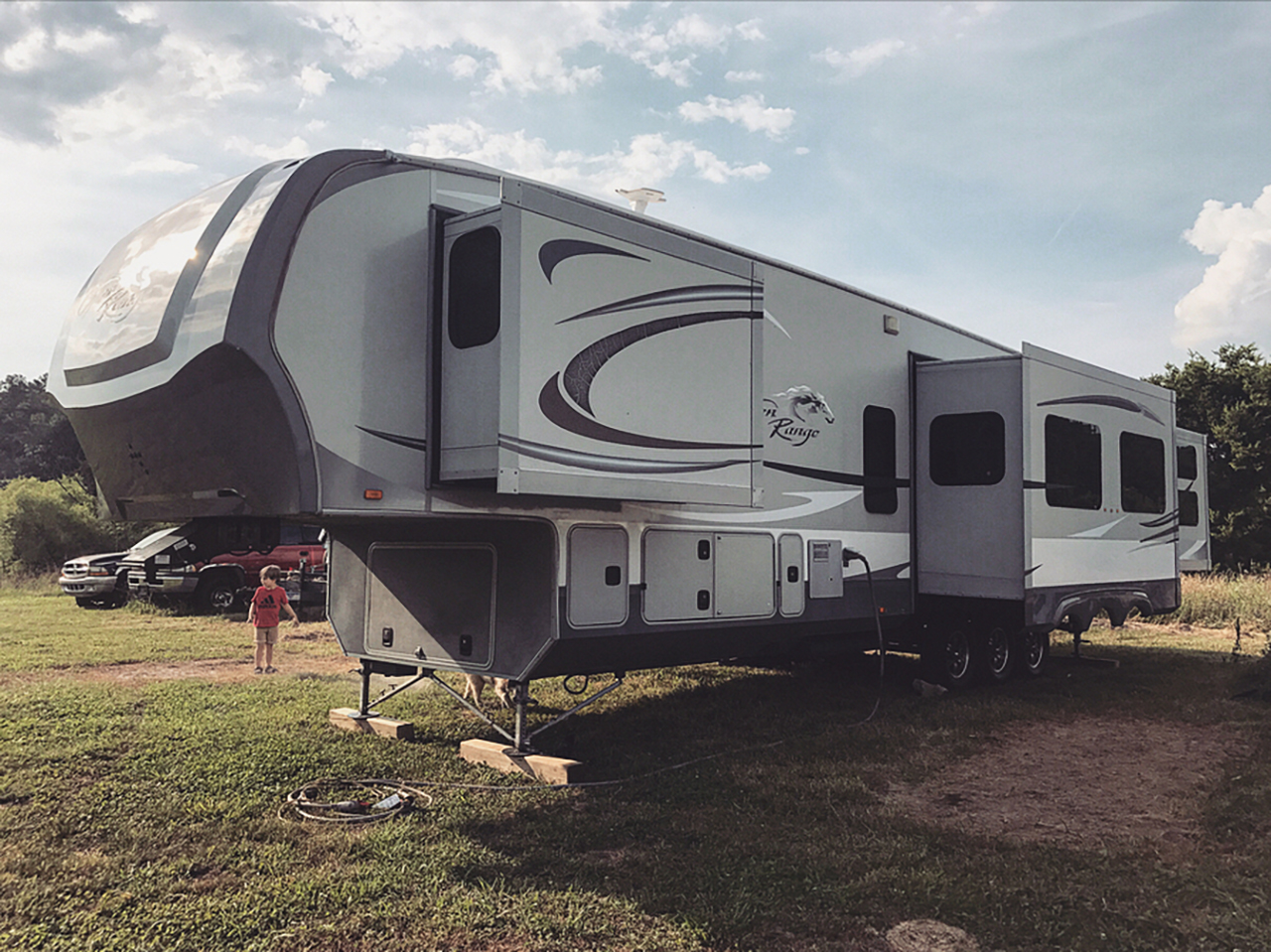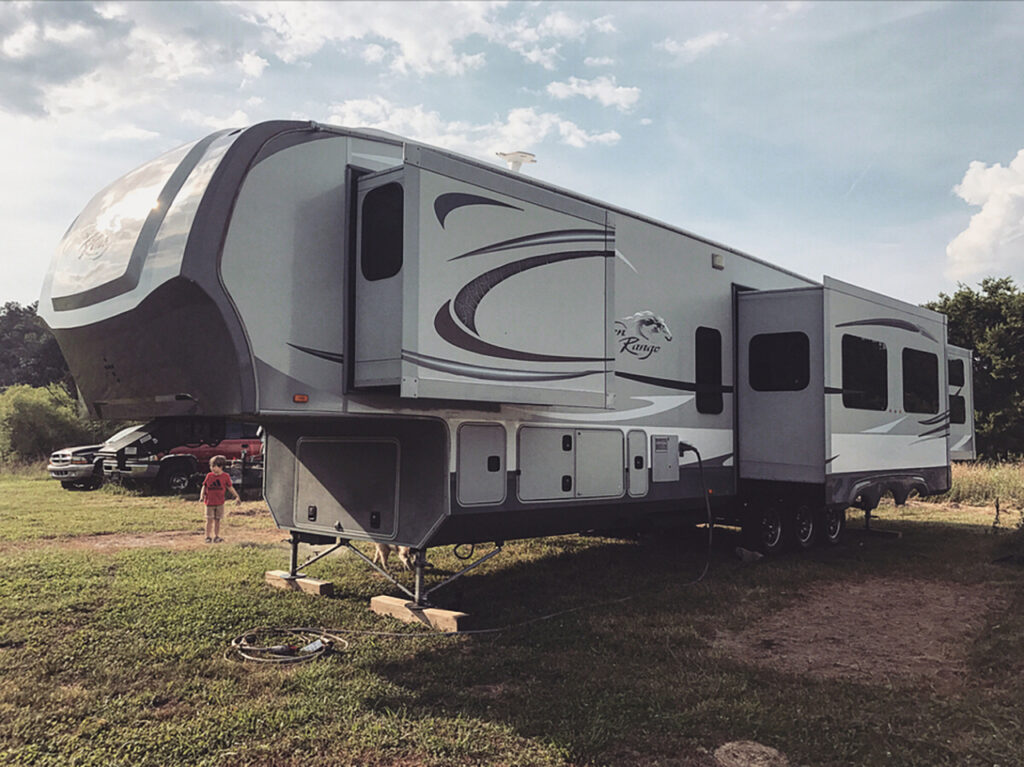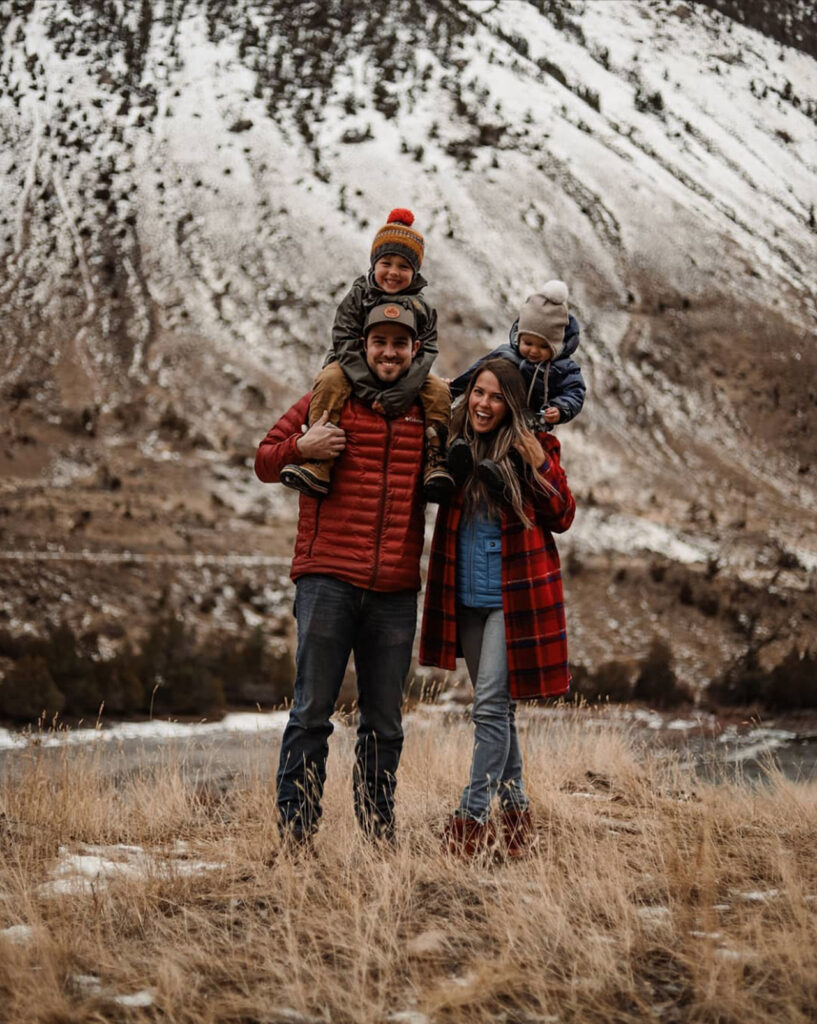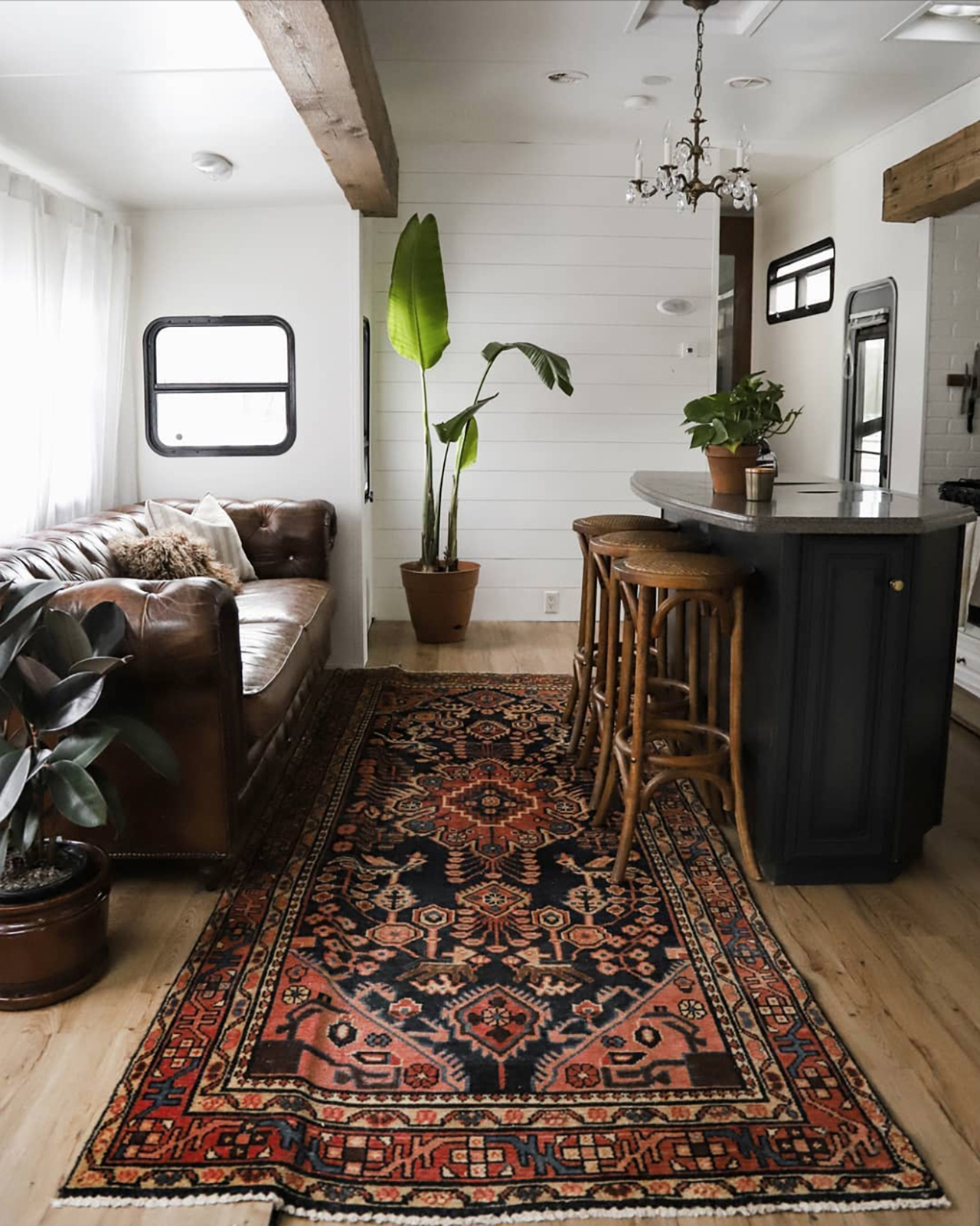 What made you decide to dive into rv life?
We decided to take a chance to leave the ordinary day to day 9-5 work schedule for a traveling job in the same field with time off, which gave us the opportunity to go tiny and essentially explore the country with our 2 boys as we go! Never in a million years did we think this would be part of our future but we couldn't be happier with this change!
How would you describe your decorating style?
Old world charm with an added touch of Parisian and modern boho mix!
Where is your favorite place to shop for decor?
Thrift stores, antique stores, HomeGoods, Ikea, & Target.
is there anything specific that inspired your renovated fifth wheel?
I would say my love for vintage + old charm is where it all started! I wanted white brick, my husband wanted wood beams! After putting two and two together it turned out to be the perfect mixture of us both!
What project was most challenging?
Running into water damage and having to replace the 2 slide subfloors (95°+ weather didn't help the whole reno process either, I think that made it physically harder than it should've been!)
What project made the most difference in your renovated fifth wheel?
The white paint made a shocking difference, it finally felt like we're getting somewhere! Though, we'd have to say adding the beams was the finishing touch to the entire renovation!
What's your favorite aspect of RV life?
Not being tied down in one place! I love the fact that you can just hook up your home to the back of the truck and go!
What's your least favorite aspect?
Caulking the roof and slides every so often is our absolute least favorite thing about RV life!
What is something you've learned about yourself since going tiny?
We're not minimalists at heart, we easily accumulate things but we've learned to be careful with what we bring in has helped a lot! Always making sure it has a place, it's useful & the things we love!
What has been your favorite place to explore?
We loved exploring Montana in the winter & Estes Park, Colorado! The views and hikes were pretty incredible! We would love to explore the California coast sometime in the future!
What piece of advice would you give someone about to start an RV renovation?
Do plenty of research beforehand to save time & be prepared for things you don't except! You never know what you'll find underneath old carpet!!! But don't be discouraged, if we can do it you can too! You got this!
"Don't be pushed around by fears otherwise you won't take the chance and you'll never know, lean towards what your heart is telling you and don't let anyone tell you any different! We've learned its okay to live a life others don't understand. Do what is best for YOU and your family!"
– MARIA FULLER
(This post was originally published on mountainmodernlife.com)

follow along
follow @r.maria.fuller and see how their RV has evolved over the years:
INSTAGRAM